Updated:
---
---
Today we want to talk about local SEO. You've all seen, when you do a local search, you get a special local box of results and the question is how do I get into that local box, how do I get to the top of that local box?

#1 Content
The first one is the same thing I would say about any website but it's true so I'm going to make it number one. We want user engagement:
Who are your users?
What are they looking for?
Just make really strong content that addresses these people, answer their questions. Again that goes without saying for anyone but for local it's the same thing there's nothing more important. Use google analytics, make sure that you're looking to see what content is working, what content isn't, what can I get rid of, what can I improve?
User engagement metrics are something that search engines look at, people are clicking to your site and immediately clicking back to search results and clicking on something else that's a signal that the site's not meeting people's needs.
In this case the other thing I'd point out is title tags and meta descriptions. Metadata is not something I like to harp on but in local it's extra important and key there are in your title tag which is what's going to display on your search result as the headline make sure you use the keywords. If you're a flower shop make sure "flower shop" is right up front of the title tag and your location is in there. I mean we're targeting a location it should be right in the title tag. Your brand can come last.
And then the meta descriptions is the text below, and meta description is not technically a ranking factor it's not something that I talked about too much, but the meta description is what encourages people to click. You want to get their attention again we want user engagement so whatever it is you can say that's unique about your business for all someone's attention and make them want to click. Make sure that it's in there content-wise. That's the easiest and first thing you should be doing.
#2 Directories/Citations
Directories are big in local search. The first thing you have to know about directories like Yelp, Yellow Pages, City Search and Google My Business is that, whether you've set that up or not, chances are you have a listing there. It's very important that anywhere you are listed online it's all perfectly consistent when it comes to your
Name
Address
Phone number
You want to make sure that it's exactly the same on Yelp as it is on City search as it is on Google, so that search engines and people can know for sure that we're dealing with the same place.
There are different ways to do it for different directories but you have to go on Yelp, find your listing, and then claim it. They'll put you through some hoop-jumping to prove that it's you and then you can go in and edit the listing. Having claimed listings also demonstrates that this is a business that's still open that people care about and are updating.
There are some directories that are actually aggregators you fill out once and they will disseminate that information to a variety of sources. The two that I always think of our Localeze and Acxiom. I would make sure that we claim both of those things, and then once you've claimed them all of these directories you want to make sure that you update it as much as possible. Put your hours in there and your service area and you know what your services are.
You're always going to have to pick a category, choose it wisely. These are things that search engines do use. You would think that by claiming a Google my business listing and updating it that you would immediately be correct on Google Maps. Not necessarily the case. I would always go into Google Maps even if they have your address absolutely correct. That little pin could be in the wrong place and you do have the option of correcting it. I've seen that happen a million times. When somebody goes to get directions the directions are taking them to the wrong place even if the address is correct.
#3 Reviews
People have a love/hate relationship with reviews, but reviews again are a huge signal and if you're a local business you want to really establish trust. People and search engines alike like to see those five-star reviews, and if you look in that local box you'll see that there is usually star rating or more information.
People hate them because what happens when you get a bad review? First of all, everybody gets bad reviews it's not the end of the world. You're going to have people who are not happy for whatever reason. The thing about reviews is, good or bad, respond to them. If somebody says something great about you, thank them and invite them back. If somebody says something bad say I'm very very sorry that that happened and we'd like to make it right.
My recommendation is, whenever possible, take that conversation offline. Say "I'm so sorry that that's what happened, please give me a call personally so we can make it right."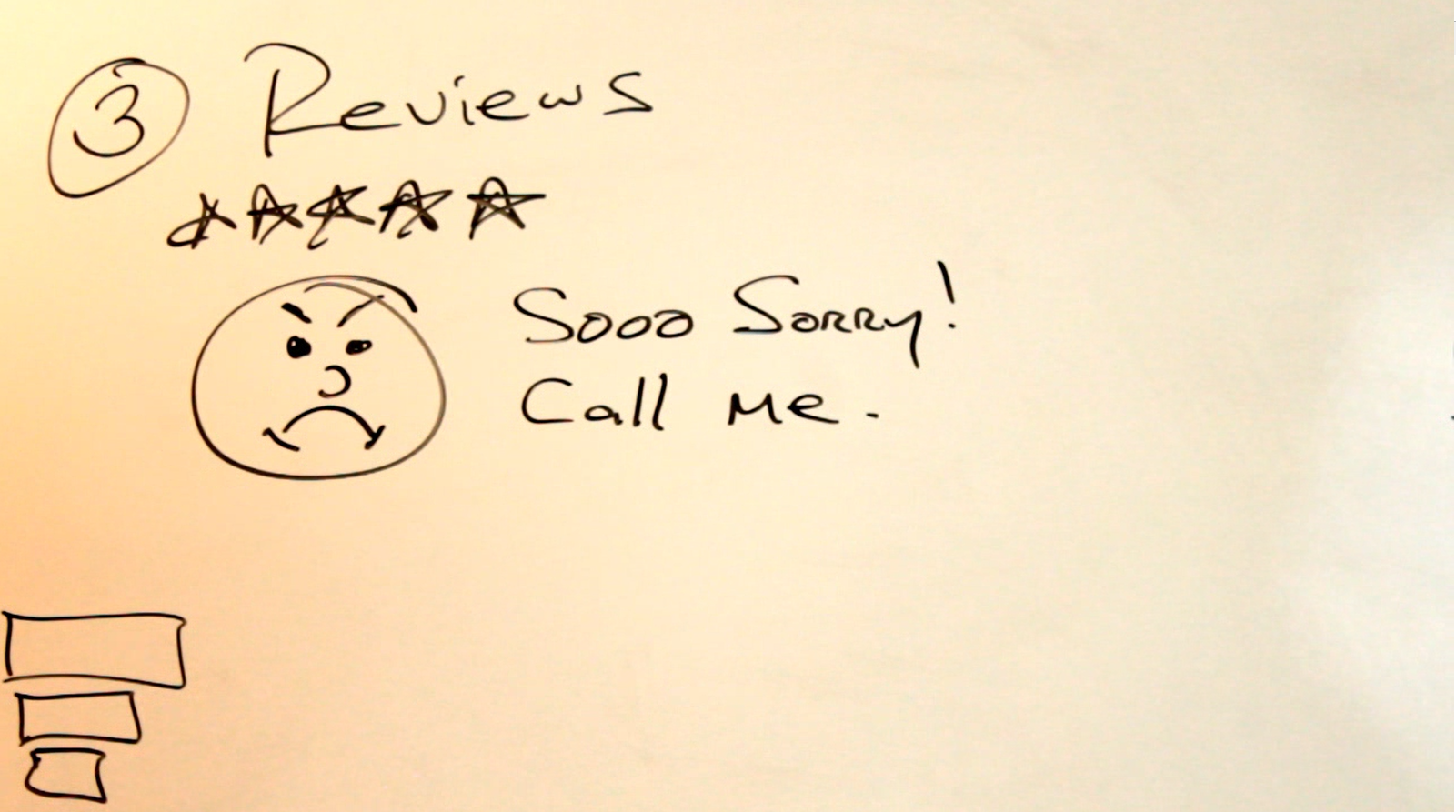 Don't have a big back-and-forth and and don't get annoyed or offended. We've seen these things go viral, where the business owner got rude with the customer and it turned into a big fight. We don't want to be that person.
#4 Social Signals
Social signals matter. Google knows and doesn't give as much credit to a company that has a Facebook page that has one like and it's your mother and there's no reviews. To put it simply:
You have to figure out what are the right social channels for you. For example, if you're selling dresses, Instagram is probably a great thing for you to do. If you're selling pizzas, probably not.
Utilize your social channels, again this is a local audience, these are people who you hope are nearby and are going to come in, so you need to engage with them.
Any time you have events or specials offers, things like that, use your social channels to get that word out. You want people sharing and liking things, all that good stuff.
#5 Schema Tagging
We discussed schema tagging in the last episode of TomTalks that focused on rich snippets.
Schema.org has a special vocabulary just for local businesses, and it allows you to go in and add markup to your site that search engines can read. You can identify using code, your name address and phone
number, your services, the hours that you're open, etc.
When you see that local result, you'll notice that there are phone numbers and there are addresses and things like that, and this is a way to communicate those things and give search engines a better idea of exactly who you are and what the site is about.