Digital Visibility for a National Manufacturing Company
From a site struggling after a mishandled transition, to highly effective and streamlined marketing tool.
The Client
National manufacturer of a luxury item sold through a dealership network with peak seasonality in the summertime. This manufacturer is a trusted brand with a high-quality, custom-made product.
The Challenge
By 2011, the company consistently ranked on page one for their most productive keywords, which was a main driver for achieving their ultimate goal--providing sales leads for dealers. However, after the launch of a new website that same year, the company was nowhere to be found in search results. In order to gain back visibility, they invested heavily in an expensive PPC advertising campaign. FourFront was hired to gain back organic visibility and, most importantly, dealer leads.
FourFront initiated a research and discovery process to identify the reasons for the manufacturer's sudden drop in search visibility. Two main issues were uncovered:
Poor Readability:
The new website, while visually appealing, was not easily interpreted by search engines and the content not aligned to the needs of the target audience.
No Transition:
The new site was not properly transitioned from the old site. Without a proper transition, search engines cannot determine that a new site is related to the original site. Additionally, any trust and authority attributed to the original site is lost. When the company launched their new site, the search engines treated it as brand new and all prior rankings were lost.
The Plan of Action
Though the mishandled transition was costly for the company's web credibility, all was not lost. FourFront initiated an SEO transition process post-launch, better informing search engines of the relationship between the two sites. The site's architecture, design, and content were optimized to further improve organic search readability and visibility for targeted keywords. Entry points were created and traffic funnels put into place to guide the user experience through to conversion.
Additionally, an ongoing, aggressive optimization campaign was implemented. FourFront utilized its in-house analytic tools to study traffic patterns and better align the company's audience with its products and services.
The Result
The manufacturer's site gradually recovered trust and authority with the search engines and organic visibility increased. By 2014, organic search lead generation had increased 68% over the previous year, allowing the company to end the PPC advertising campaign and realize significant savings. In 2015, organic lead search generation increased another 100% from the previous year.
Monthly Leads Generated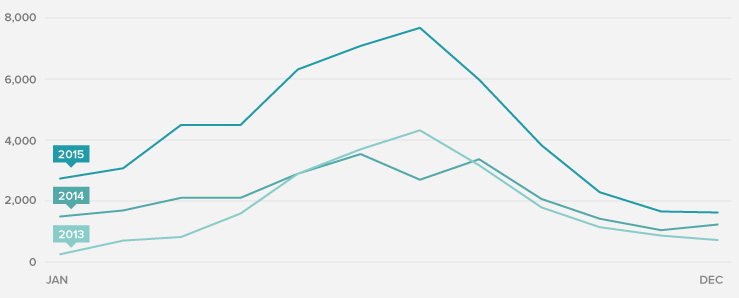 Primary Keyword SERP Position

PPC ROI