National Manufacturing Company
After this client experienced a difficult transition to a new website, we were able to help them streamline content and supercharge performance.
The Challenge
After years of building an online audience, a national manufacting company consistently ranked on the first page of Google for their most productive keywords. This excellent visibility helped them achieve their ultimate goal: providing sales leads for dealers. Then, they launched a new website and experienced a sudden, severe drop in visibility. To correct the situation, they invested heavily in an expensive PPC advertising campaign which wasn't working. That's when they contacted FourFront.
The Solution
Our research identified two main reasons for the drop in visibility. First, the new website had poor "readability." It was not easily interpreted by search engines and its content was not aligned to target audience needs. Second, the new site had not built any connections to the old site. As a result, it forfeited the trust and authority it had built over time.
FourFront initiated an SEO process designed to help search engines understand the relationship between the old site and the new site. We optimized the new site's architecture to improve readability and created entry points and traffic funnels to guide the user from discovery to conversion. Finally, we implemented an ongoing optimization campaign. FourFront used proprietary analytics tools to study traffic patterns and better align the client's audience with its products and services.
The Aftermath
The manufacturer's site gradually recovered trust and authority. As a result, organic visibility increased. In the second year of engaging FourFront, lead generation experienced an annual (YOY) increase of 68%, allowing the company to terminate their expensive PPC advertising campaign. In the third year, lead generation experienced an annual (YOY) increase of more than 100%.
Monthly Leads Generated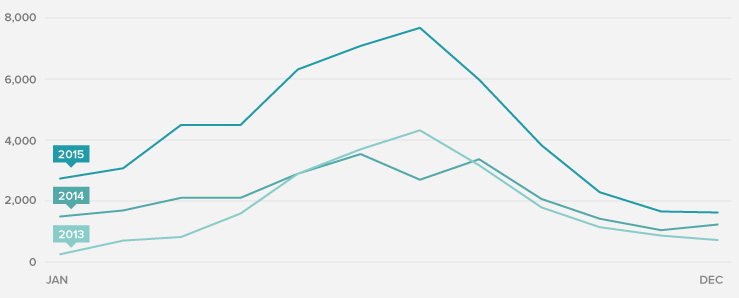 Primary Keyword SERP Position

PPC ROI