Digital Visibility for an On Site Service Company
From a site with no visibility, to a locally-optimized lead generation engine.
The Client
A regional B2B company providing onsite document security services.
The Challenge
The company's website was basic, listing their services but missing other important content. Search engines lacked trust in the site as it did not provide enough information. Therefore, organic visibility was low and potential customers were unable to find or use the site to gain the information needed to convert. The challenge was to raise awareness of their services and events to increase leads and boost revenue.
The Plan of Action
Identifying plenty of room for improvement, FourFront took the challenge. The first step was to create a local visibility strategy covering the company's service area and targeting particular communities where there was an identified opportunity to gain market share. This included:
The creation of specific content for various zip codes in the region
Adding the company's location across multiple local directories
Installing a calendar on the website featuring local service-related events throughout the region
In addition, a content strategy was executed to raise brand trust and authority in the eyes of the search engines and to better serve potential customers in their decision-making process. This included:
Building more robust content describing the company's products and services
Creating informational content to educate visitors about relevant topics and resources
The Result
By adding local emphasis and providing valuable content, FourFront increased organic visibility for the company's site by 100%. Search engines were better able to understand the purpose of the site and its offerings and responded by serving it as a search result to potential customers.
Not only did site traffic double, quality leads and conversions also drastically increased. Visitors to the site were better informed and could more easily make the decision to convert.
In 2014, the company expanded its service area and invested in additional fixed assets to keep up with demand. In 2015, an additional facility was added to the operation as well as additional service capabilities.
Monthly Visits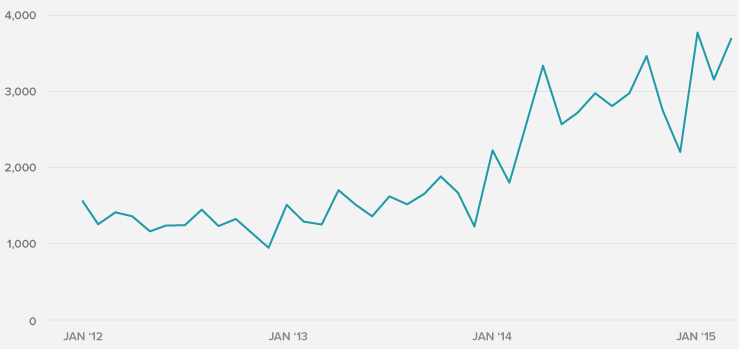 Monthly Leads