National Philanthropic Trust
A Website and SEO Strategy to Support Charitable Giving
Services: SEO/SEM/PPC • Analytics
Figure 1: Website
An Organization Dedicated to Increasing Philanthropy
National Philanthropic Trust (NPT) provides philanthropic expertise through the use of donor-advised funds. They came to us with three objectives: promote their brand, inform potential clients about their services, and convert users who arrived at their site through web searches.
After using our in-house tools to analyze the web traffic within their markets, we focused on positioning their website for greater visibility and higher conversion rates. During our research, we discovered that NPT had an opportunity to capitalize on their niche market: donor advised funds. We helped them generate content and interactive experiences around that topic, creating a History of Giving Timeline, an interactive grant making map, and interactive charts that highlight the value of NPT funds.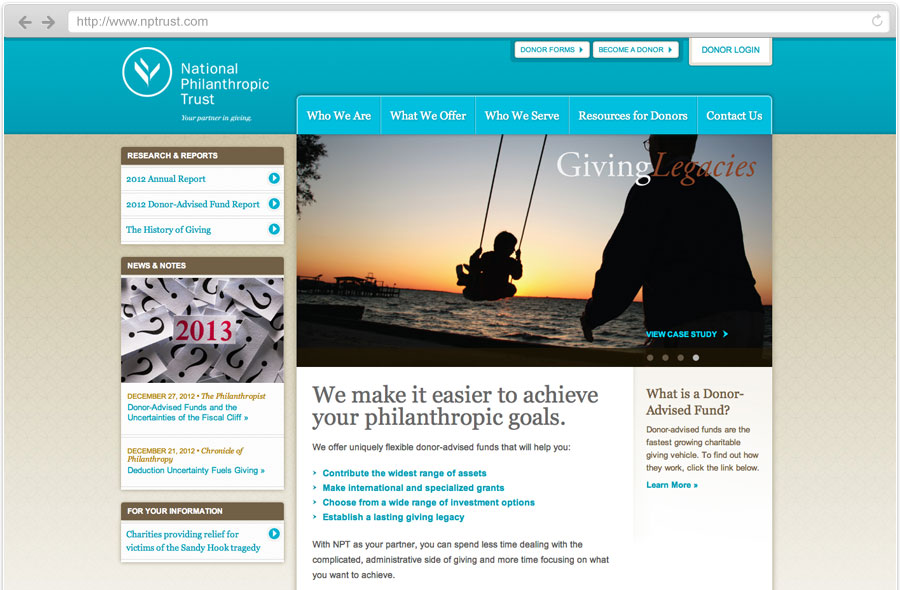 Figure 2: Optimization
Content Engineering
Careful analysis of usage patterns helped us understand what visitors were expecting to achieve on the site. We organized the content and interface in a way that would clarify NPT's message and create a streamlined experience for the user.
Figure 3: Analytics
Optimization
The website had very low visibility for discovery keywords and the existing PPC campaign was not effective.
Results:
Increased click-thru-rate for PPC campaign by 50%
Increased targeted traffic by over 50%
Increased CTR for PPC campaign by:
50%
Increased targeted traffic by over:
50%
Increased search engine visibility for highly productive keywords:
| Keyword | Google Ranking Start | Current Google Rank |
| --- | --- | --- |
| donor advised funds comparison | Not in Top 50 | 1 |
| charitable giving statistics | 15 | 1 |
| donor advised funds | Not in Top 50 | 3 |