As data sources multiply, it gets harder to produce reports that inform your marketing decisions. You may end up with a ton of reports, spreadsheets and prospectuses but no integrated view that provides clear direction or actionable insight. Web analytics will keep your company in proper focus and provide leading indicators that maximize return on your marketing spend. That's where a web analytics consultant like FourFront comes in.
Web analytics are an essential component of any digital marketing strategy. They include useful data (such as traffic patterns, conversion rates, etc.) that can help you understand the behavior and preferences of your target audience as well as the current and potential alignment of your website. We offer expert Website Analytics services that are based on a deep discovery process and a full understanding of your business goals.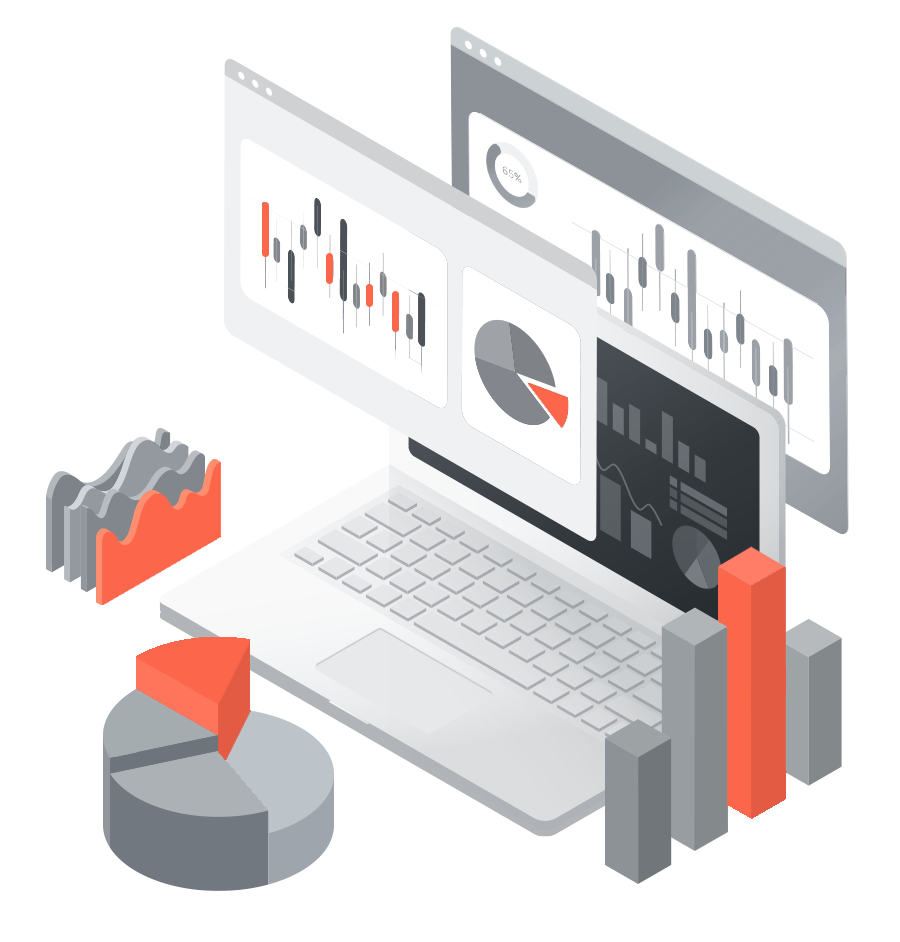 We have a robust analytics infrastructure that lets us catalog your data sources and identify unique metrics that will be used to measure progress.
Our process will identify the best set of KPI's for your business and make sure they can indicate or predict growth.
Our metrics guide the design of your website analytics reporting structure which, in turn, provides the insight we need to build digital strategies and recommend growth opportunities for your company.
Our Website Analytics services include:
Google Analytics (GA) is a powerful, complex system that holds the key to understanding the effectiveness (and potential) of your website. We can help you efficiently navigate GA and take full advantage of its functionality. We keep you out in front of all GA upgrades and developments and help you find hidden insight that informs business action > Read More

If you want detailed, customized analytics reports that measure visitor behavior, attrition, and website performance, our Metrics Tagging service is the way to go. We provide tagging recommendations for the most beneficial conversion opportunities and tailor analytics to your specific KPIs.
Knowing how much business you'll get by driving more visitors into a conversion funnel isn't quite as linear as it sounds. Our research and systems find combinations of visitor behavior patterns that are most likely to generate conversions. This allows your marketing strategies to focus on targeting these high-probability customers. > Read More

Social media analytics are an important part of any active marketing campaign. They provide insight into audience interests, audience pain-points, brand sentiment, and brand loyalty. To optimize your marketing effectiveness, we provide performance assessments that are fully integrated with the rest of your web analytics.
We provide Web Analytics services to a wide variety of clients, including E-Commerce and Enterprise companies and organizations.
The biggest challenge of providing analytics for E-commerce businesses is curating the high volume of data into a report that doesn't drown the client with superfluous information. Our experts know which gathering tools to use, what information to include, and how to present it. We keep you focused on the most relevant findings and actionable insight. > Read More
Are you running multiple websites regionally, nationally or globally? Do you want to get a holistic view of your metrics? Our Enterprise Analytics Reporting solution can provide you with a comprehensive, integrated view of all your websites as well as metrics by channel with comprehensive keyword and KPI reporting.  > Read More
The Impact of Our Web Analytics Services
"I can't tell you enough how impressed we are with FourFront. It shows they are putting in the hard work to make our decisions easier. Their analytics are amazing and their team is the epitome of consummate professionals who are always prepared and willing to go the extra step."
We helped this client understand their audience, narrow their focus, and become thought leaders in a market with very powerful brand competitors.
Frequently Asked Questions
What is an analytics consultant and how do I become one?
Common Responsibilities include:
Analyzing data for actionable strategies
Creatively applying the latest data analysis methods
Ensuring data quality
Managing data pipelines
To become an analytics consultant, you will need a degree in data management or the equivalent industry experience. Some digital marketing agencies provide analytics training for entry-level generalist associates. When hiring for data analysts, FourFront puts a high value on curiosity, adaptability, and creativity.