This post features information for the current Google Analytics platform configuration, Universal Analytics. Check out our recently-published Google Analytics 4 Guide to learn more about the latest version of Google Analytics.
Measuring how effective your Branded and Non-Branded keywords are performing is important in optimizing any paid search campaign.
Many PPC managers will include branded terms and queries to improve their Conversion and Paid search user engagement metrics. Branded terms have a higher Click-Through-Rate (CTR) than generic terms or Non-Branded terms. The Cost-Per-Click (CPC) for Branded keywords is lower than generic keywords and Branded queries do produce a higher number of last-click conversions than Non-Branded terms.  If your goal is to reach new customers, using Non-Branded or Generic keywords should be part of your paid search campaign.
We can effectively measure Branded and Non Branded searches from Paid search by creating Branded and Generic Paid search Channels in Google Analytics. These channels can be used to gain a better understanding of how brand and generic keywords work together to drive conversions.
To get started:
1. Sign in to your Analytics account.
2. Click Admin, and navigate to the desired view.
3. Click Channel Settings, and then click Manage Brand Terms.
4. Review the Suggested brand terms section. Click Add to add a suggestion to your Active brand terms list, or click X to permanently remove the suggestion.
5. In the Enter brand terms text box, type or paste additional terms that describe your brand, then click the Add brand terms button to add these terms to your Active brand terms list.
6. Click the Save button.
Click here for more instructions: https://support.google.com/analytics/answer/6050679
Sample Channel Group report after setup;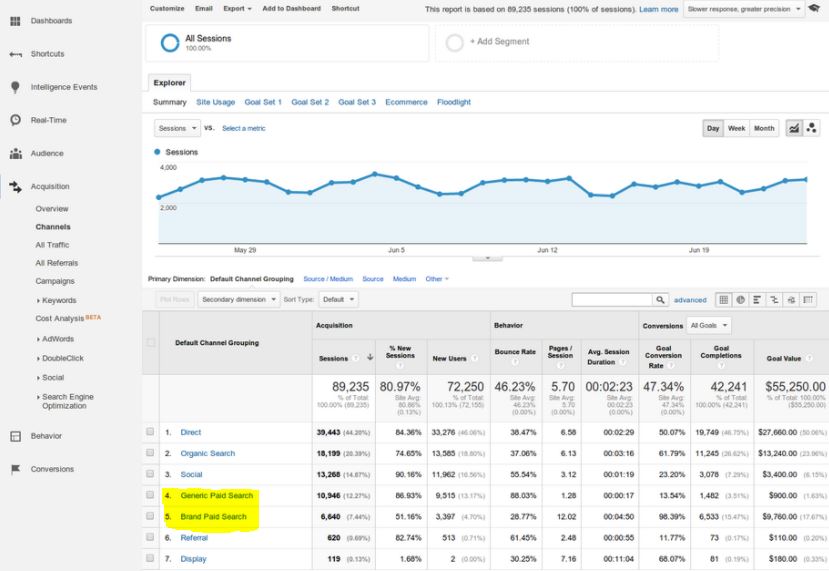 If you want to transform insights into results, FourFront can help. We are experts in PPC and Analytics with more than a decade of experience. We are also a certified Google partner with an advanced knowledge of Google Analytics that allows us to provide you with recommendations that will maximize your conversions. Contact us today for a free website assessment.