As a marketer, one of your primary goals—whether you're working in-house or at an agency—is to increase the awareness of your or your client's brand. This concept of brand awareness refers to how familiar an audience is with the brand overall, including the name, logo, and product or service offering. Increasing brand awareness is an outcome that benefits every other key marketing goal, like increasing leads and sales.
The magic comes when you're able to turn this concept into a quantifiable metric, allowing you to measure how interest in your brand is increasing or decreasing over time. Even in today's digital world, many marketers struggle to quantify impact in a way that helps hone tactics and ultimately proves your success. Brand interest metrics are one way to do this.
In this post, FourFront's "Bens" have teamed up to share some of the wisdom we've gained helping clients to measure increases in brand awareness. Read on to learn some of the nuances we've come up against, and how you can make these concepts work for you.
In this post, you will learn:
What is Brand Awareness?
At a high level, the spectrum of brand awareness starts on the low end with companies whose brands are completely unknown and goes up from there all the way to proprietary eponyms—brand names so commonly known that they are now frequently used to describe the products themselves (think about the trademarked household names we use like "Kleenex" for tissues, "Chapstick" for lip balm, or "Band-Aid" for a bandage).
Chances are, the brand you're working on falls somewhere in the middle.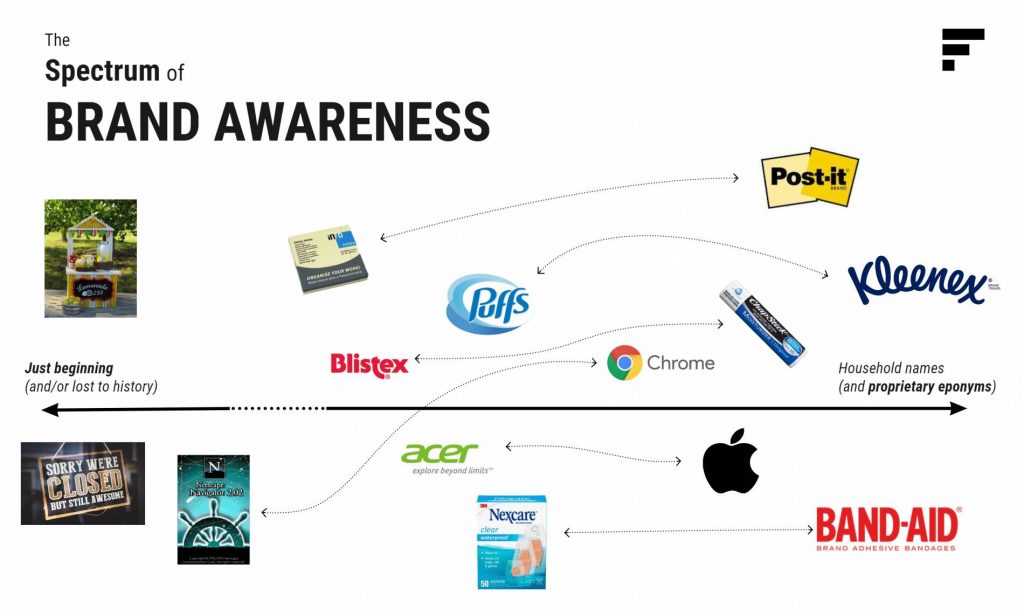 We think about this concept of brand awareness a lot at FourFront, and we often think of brand awareness as very similar if not interchangeable with the concept of "brand interest." Brand interest measures the increasing or decreasing level of interest prospective customers have in the brand.
Simply put, these terms are shorthand for how familiar the audience is with your organization.
Benefits of Brand Awareness
Most articles out there talking about brand awareness focus on the examples we all know about: Apple is perhaps the most notable since it is currently considered the most valuable brand in the world. These rockstar brands are successful because they have established incredible relationships with their customers. They are so successful that thousands of people identify deeply with these brands.
While the famous examples stand out, it's also important to keep in mind that brand awareness is something that is at play even for brands with smaller reach. Small or medium sized businesses have quantifiable brand awareness, too. It should be a goal of every marketer to increase the knowledge of the brand in order to increase preference, engagement, leads, and sales.
Increasing awareness is key for dozens of reasons. Most important, when brand interest is higher that means several crucial business outcomes are also likely to be occurring:
Brand recognition* is increasing
More people are entering the marketing funnel
Brand trust and credibility is increasing
There is higher association between the brand and its products or services
Preference for your brand is increasing compared to competitors
The value of the brand is increasing
Recruitment and retention will become more effective
Customer loyalty is increasing
Market share is increasing
Sales become easier
Media attention is increasing
Traffic to the website is increasing
One quick sidebar: While we often think about brand interest and brand awareness as very similar, it's helpful to make a distinction between brand recognition. Brand recognition refers to the extent to which a consumer can correctly identify your brand based on visual indicators.
While similar to awareness and interest, which considers the broad understanding and intention people have toward a brand, recognition is focused on being able to recall or correctly associate brand assets like the name or logo. (This is important, but it's not the primary focus of this article.)
How to Measure Brand Awareness
While we have our preferred metric for measuring increases in brand awareness here at FourFront (more on that below), there are in fact many accepted ways to do it.
Here are some popular methods:
Why you should measure brand awareness with SEO data
Our preferred metrics—branded clicks and branded impressions—are based on a few key concepts:
When more people are aware of and interested in a brand, the number of Google searches for the brand will naturally increase.
Conversely, when fewer people are engaging with the brand, then they are less likely to search for it online, and branded clicks/impressions will therefore decrease.
Why is this a reliable metric?
Everybody searches. Google—which dominates search with ~92% market share—is used to make a search billions of times per day. Google also provides information about how your site appears in search results for free as long as you have a Google Search Console account. 
Search is a fundamental behavior of digital users. Many people will even navigate to a website using search—in other words, they type a brand name into their Chrome browser and hit enter rather than typing the full ".com" address.
For these reasons, we love using branded clicks and impressions to help tell stories with data, illustrating how our marketing strategies impact brand awareness over time. 
Try it Yourself
This data is free: All you need is a Google Search Console account. However, you need to take a few extra steps to make the data work.
First, you need to determine which queries you want to count as "branded." We typically include any keyword that includes the brand name, abbreviations or shorthand, the names of the brand's products or services, and in some cases team members' names as well. 
We prefer to create RegEx filters that focus on a website's click and impression data from these specific branded terms, conjuring an excellent indicator of either increasing or decreasing brand interest.
However, you can get a quicker read on your brand's relative awareness/interest levels by simply using your website's Google Search Console dashboard:
Open Google Search Console and make sure you're in the correct property.
Click into the Search results report under the Performance tab.
Click the "+ New" icon above the report to add a "Query" filter. Enter a branded query, such as the brand name or the name of a team member.

The Report will now show you clicks and impressions over time. For deeper results, use the Date filter to extend the time range and/or show comparisons with previous time ranges.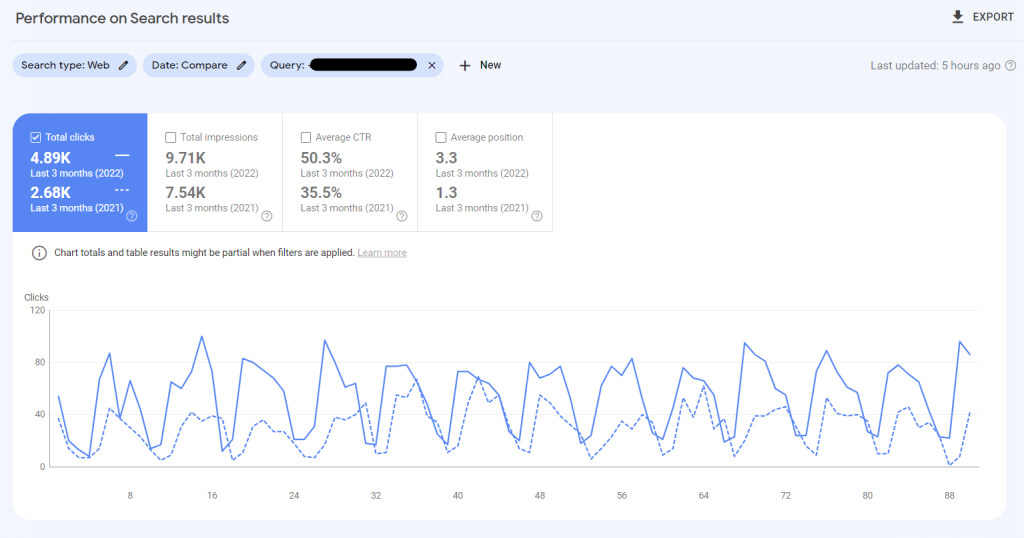 While advanced reporting can provide more in-depth information, this is a basic approach to quickly get the pulse of your brand's interest levels within search results. 
Once you have this baseline, your next likely question will be: How can I increase these numbers?
9 Ways to Increase Brand Awareness
In some cases, we may notice declining brand interest for one of our clients. In other cases, a client's brand is so new that we need to build interest from essentially 0.
In either of these situations, the tactics below have been proven to move the needle.
Bonus!
As you can see in the list above, as long as it's positive and successfully executed, almost any marketing tactic you can think of could have an impact on your brand awareness.
If you're not convinced by those ideas, here are some bonus tactics you might consider with a few hat-tips (H/T) pointing to some famous examples.
Cultivate user-generated content, also known as UGC (H/T Airbnb)
Enhance customer satisfaction
Create a podcast (H/T Microsoft)
Focus on creating more emotional connection or enhancing your brand's storytelling
Improve your local SEO
Focus on improving the user experience of your digital offerings (H/T FiveThirtyEight)
Offer "freemium" products (H/T Spotify)
Host an all-out product launch event (H/T Apple)
Create referral programs
Create a viral marketing campaign—that's easy, right? (H/T Coca-Cola)
Create a catchy slogan or a fun personality/mascot (H/T Gritty)
If you liked this post, be sure to check out why successful brands partner with our SEO team for long-term results, incredible web analytics, and more.
If you have any questions or thoughts, please let us know in the comments below.