One of FourFront's core values is community involvement. In this Q+A session, we throw a spotlight onto our Senior SEO Lead & UX Specialist, Ben Swofford, who exemplifies this value by volunteering his time to work with PhillyCHI. (That's Ben, in the middle of the photo above, with his 2020 PhillyCHI Board colleagues.)

FourFront: First, can you give me the quick elevator pitch for PhillyCHI?
Ben: Absolutely. PhillyCHI—pronounced "philly kai," by the way—is a volunteer-run group whose mission is to advance UX as a discipline and to strengthen the Philadelphia UX community. We host regular educational and networking events dedicated to knowledge sharing and community building.
FourFront: I think I'm clear on the Philly part, but what does the CHI stand for?
Ben: PhillyCHI is the local chapter of ACM SIGCHI—which is alphabet soup for the Association for Computing Machinery's Special Interest Group on Computer Human Interaction. In simple terms, it's a global organization that has been talking about UX for decades, although in the past it was often called human-computer interaction, or HCI. SIGCHI and PhillyCHI just switch the "C" and the "H." PhillyCHI has been an active chapter for 15 years.
FourFront: How did you learn about PhillyCHI and what drove you to get involved?
Ben: A few years ago, I started to get more serious about studying UX. I researched professional organizations and was thrilled to find a ton of city-based meetup and networking groups where I could learn and get involved. PhillyCHI was my favorite organization because they were so welcoming. They were also very consistent in terms of event frequency and quality.
I first got involved with the board in response to a call for SEO help with their website. It was a no brainer, given my regular job, and a great way to give back. Later that year, I applied to join the board and was selected to become PhillyCHI's first Brand + Content Strategist.
My first official event was in January 2020. Sadly, it's the only in-person event I've been a part of, since COVID forced us to be 100% virtual. We kept events going throughout 2020, despite screen fatigue and everything else going on, and were pleasantly surprised to find that the community remained active. It's not uncommon for us to have hundreds of people log in, from all around the country and the world, for that matter.
This year, I stepped up into the role of Chair, and was joined by a new team. We've had a lot of fun continuing to host amazing speakers and trying out a few new event formats.
FourFront: You mentioned new event formats. Can you tell me more about that?
Ben: One of our big takeaways at the end of 2020 was that even though we were proud of our virtual events, it was starting to feel a little too passive. You might remember that "Zoom fatigue" was becoming a very popular phrase.
So going into 2021, one of my goals was to experiment with ways to create more active and engaging experiences. Our new board rallied around this idea, and we decided to find a way to host an event that focused on breakout sessions.
This effort became an event we called "UX Specialization – Conversations with the Community." We brought together 15 different UX professionals across six virtual "rooms" where attendees could discuss the speakers' areas of specialization in a more intimate and conversational environment. It was a lot of work to organize. But it went really well, we learned a lot, and we got good feedback from speakers and attendees, too. I'm hopeful that this type of event will become a regular occurrence in future years.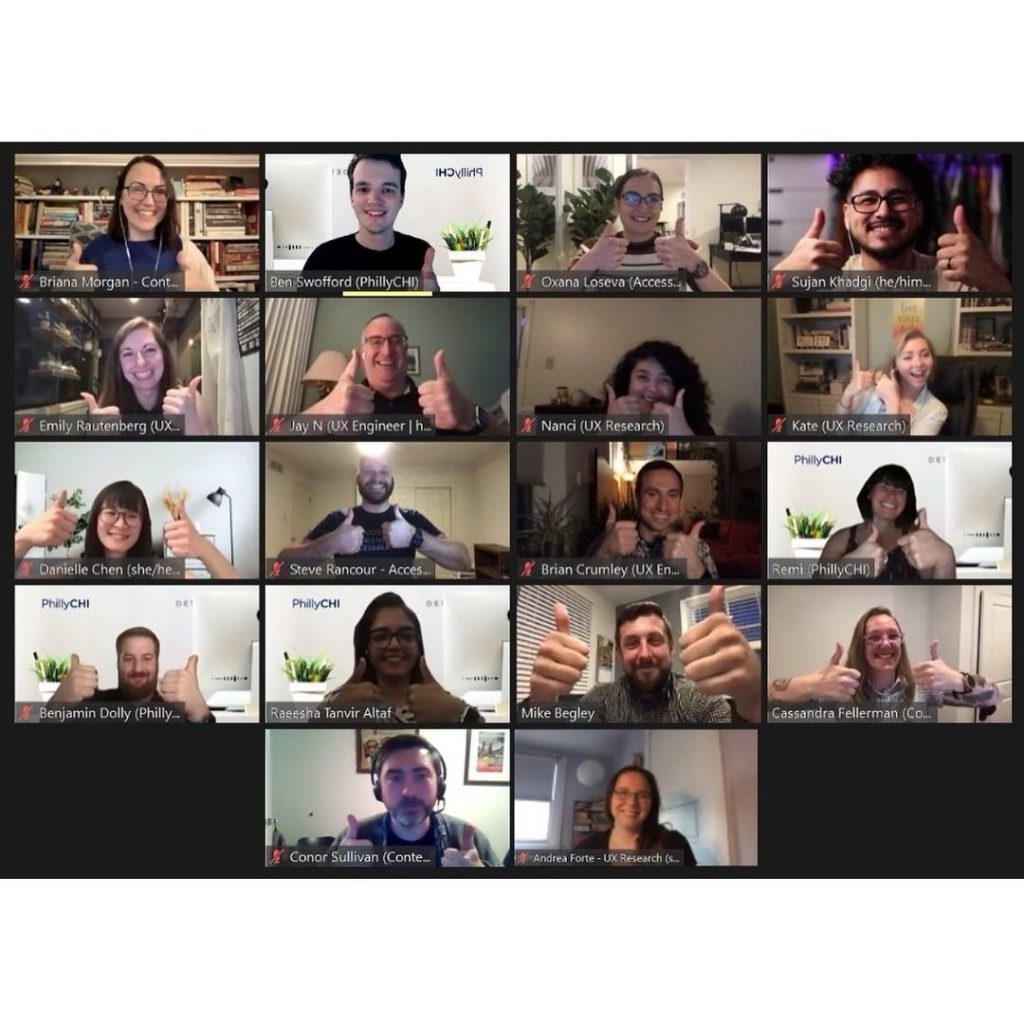 FourFront: Beyond the satisfaction of giving back, has this experience given you anything else? Have you gained insights that help your work, for example?
Ben: There are several things that benefit me, personally. For one, I learn a lot at the events themselves. Last month, we hosted Kent Eisenhuth, who talked about his work for Google, pioneering the field of Data Accessibility. This talk gave me so much to think about, and some of the takeaways have already informed FourFront's approach to accessibility as well.
It has also provided me with amazing opportunities to grow. Leading the PhillyCHI team has been rewarding, challenging, and perfectly aligned with the arc of my career, as I take on more leadership and supervisory responsibilities.
There are so many other things I've learned, like how to secure sponsorships and the nuances of event logistics. In the long run, I suspect that the networking aspect may be one of the best value points. You get to connect with speakers, partners, attendees, and of course, the fellow board members. These connections are so important.
In fact, I almost forgot to mention that PhillyCHI connected me with the awesome folks at Hopeworks, our nonprofit partner for the annual UX Design Slam event. That connection eventually led to FourFront hiring one Hopeworks alum as an intern.
FourFront: What's next for the organization, or you for that matter?
Ben: We have our World Usability Day event coming up in early November, and we're in the process of organizing a Holiday Happy Hour in December. We're really excited for that one—if we can pull it off, it will be the first time we've been able to bring the community together in-person since my first event in January 2020.
For my part, I've decided it's time to pass the reigns to the next Chair. We will be putting out a call for a few new members soon, and I know the team will be in good hands. I'll be helping transition over the next few months and can't wait to start attending events from the other side again.
I hope that after a bit of a breather I'll have more opportunities to participate with PhillyCHI or similar organizations in the future. I want to make sure I keep finding opportunities to learn and to give back in ways that bring people together.