FourFront offers WCAG compliance services that ensure that your website's content is in line with all standards set by the Web Content Accessibility Guidelines (WCAG) and Americans with Disabilities Act (ADA). Our complex system of site-crawling tools perform a comprehensive audit of your entire site and will detect all instances of non-compliance, while our team of specialists will determine the best next steps to align your website with current accessibility standards.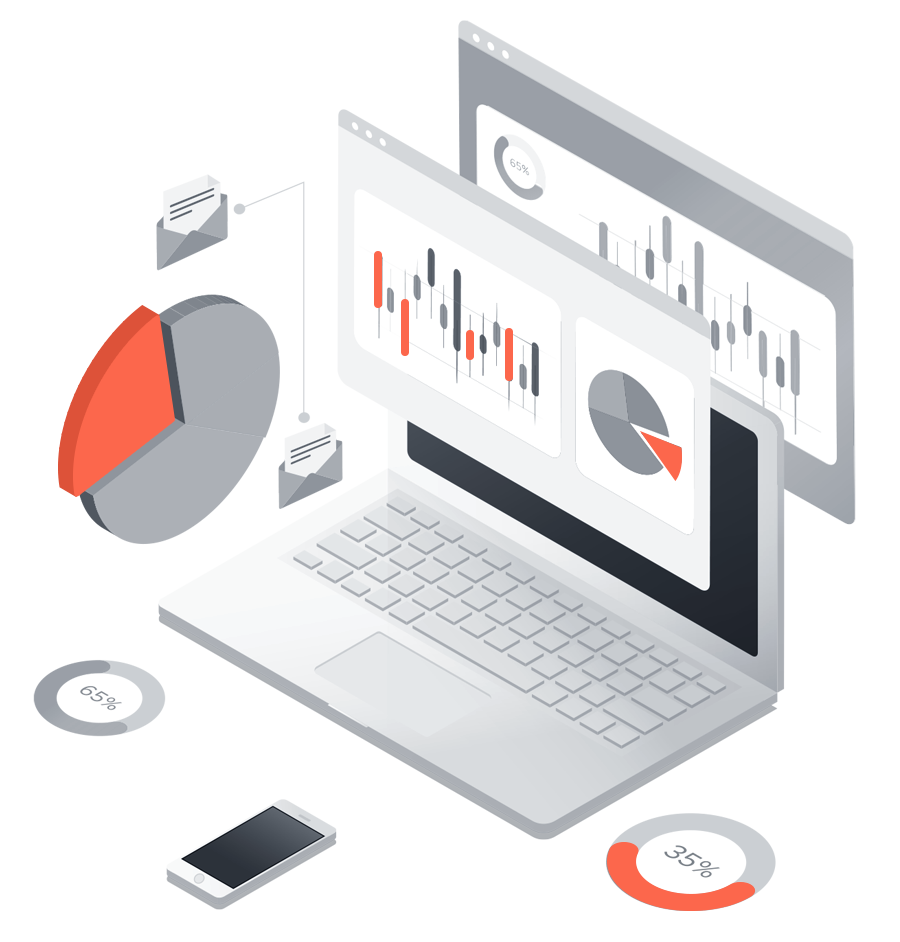 Are you ready to make your website more inclusive?
What is Web Content Accessibility?
Web content accessibility is the approach of ensuring that your website is easy to access and use for all visitors, despite any kind of disabilities related to vision or physical impairments. Accessibility is primarily a User Experience (UX) exercise, with an additional significant impact on SEO. The universal accessibility of your website is an important SEO element as well, in the sense that any obvious conflicts with WCAG and ADA guidelines will detract from your site's overall user experience which can lead to a loss in organic search visibility.
All websites are now required to be ADA compliant. Over the past several years, ADA-related website litigation has increased dramatically, causing business owners to take steps that ensure their websites and mobile apps are accessible to disabled users. For this reason, FourFront developed an ADA testing system that robotically checks all your website's pages for ADA, WCAG 2.0, and Section 508 web accessibility standards. Our WCAG compliance services also provide a detailed compliance report with a summary of all identified errors, code snippets of their exact location, and what is necessary to remediate the issue.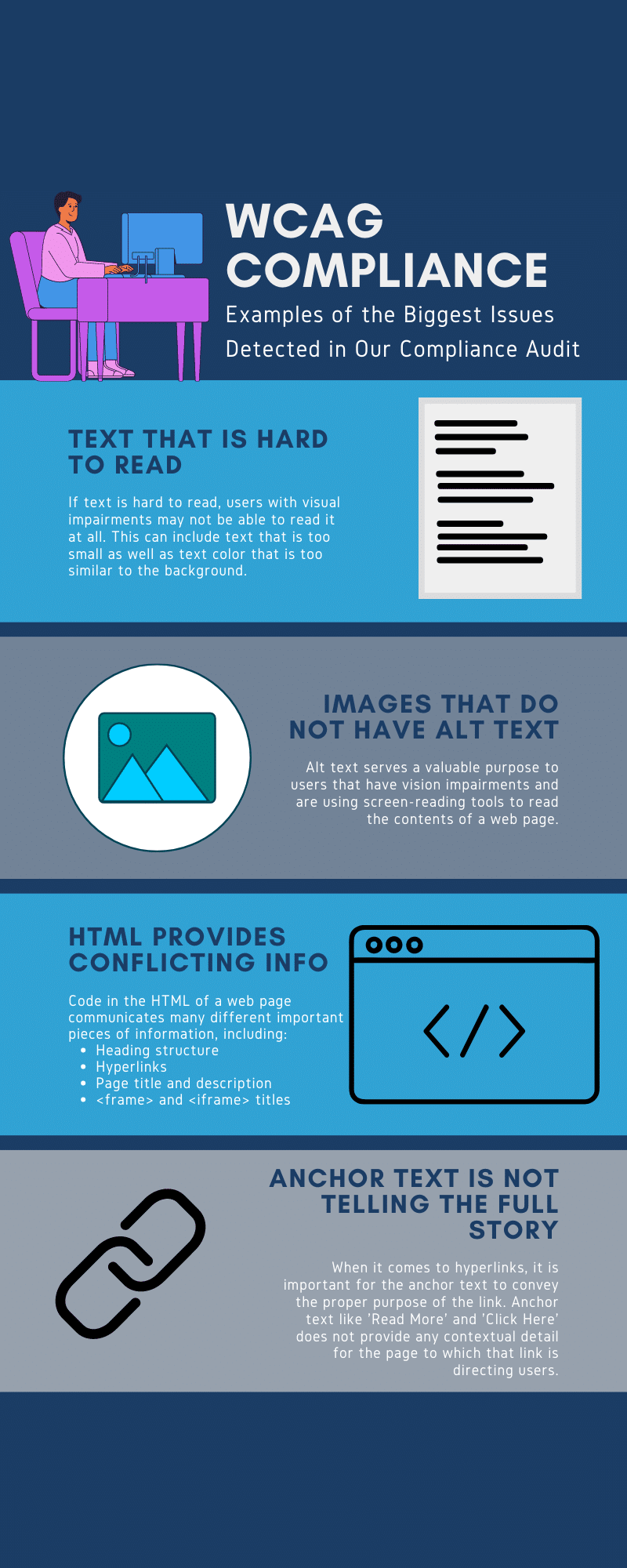 Some of the Brands That Trust Us to Manage Their WCAG Compliance
FourFront has provided WCAG Compliance services for businesses of all sizes and industry types. Our multidisciplinary team has the expertise and background to align any website with the accessibility standards set by WCAG.
Our WCAG Compliance Audit Services

Detailed Remediation Report
Our analytics department and team of SEO specialists collaborate to provide a detailed report detailing all of the accessibility issues found on your site and how to correct them so that your site aligns with current WCAG standards.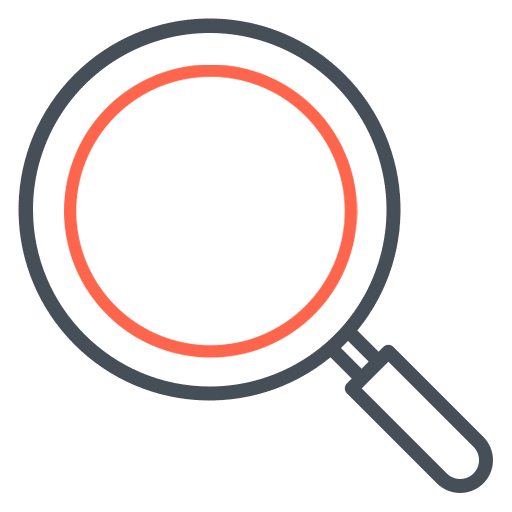 Once all recommendations have been considered and corrected, our analytics department will provide a follow-up report that measures the long-term impact of any and all corrections. While some changes are more proactive than reactive and thus will not have clear impact, in more severe instances clients can see immediate positive effects of the remediation work.

Upon completion of our analyses, FourFront provides all our clients with a badge to showcase that their site has been tested for ADA compliance. This badge can be embedded into the HTML code of any page to let users know you're keeping up-to-date on best practices for accessibility.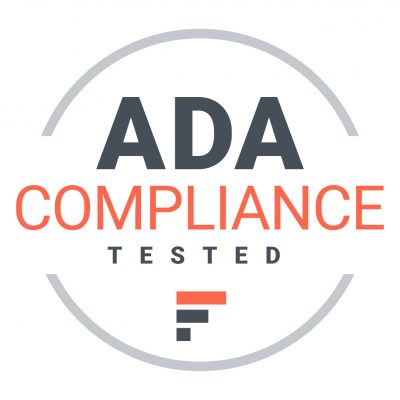 Case Study: Setting Legal Standards
If your website does not conform with current WCAG standards, then you run the risk of having legal action taken against you. Learn how we helped one of our automotive clients overcome a lawsuit by leveraging the findings from our WCAG audit: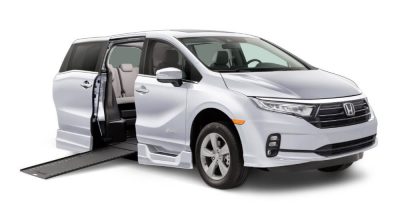 This well-known dealer of wheelchair vans was sued for an alleged lack of ADA compliance functionality on their website.
Using our WCAG compliance audit, we set out to help the client identify major compliance issues on their website and how to remediate those identified issues.
By implementing the findings from our report, the client was able to achieve an acceptable compliance rate and avoided any further action from the lawsuit. To this day, this client still relies on our WCAG compliance audit regularly to ensure their website is up-to-date on current accessibility standards.
WCAG Compliance Service Plans
Our basic plan is ideal for websites that contain under 1,000 pages. We provide a hybrid solution in which our proprietary crawling technology performs the audit, and our team of UX specialists review the issues found to provide specific recommendations for remediation.
We offer customized packages for websites that exceed 1,000 pages. Similar to the basic plan, our team will perform a sitewide ADA audit using proprietary crawling technology. Afterward, our team of UX specialists will conduct a more thorough review. Due to a higher volume of pages, the full process will take longer to complete as we determine the specific recommendations that will benefit your site.
Custom Pricing Based on Website Size
Why Choose FourFront as Your WCAG Compliance Agency
FourFront is a top-rated SEO company and Google Certified Partner with over ten years of experience helping a wide range of clients make their websites accessible to help avoid legal risks. We understand the impact of ADA compliance in today's digital world, and we help find the best balance between accessibility and user experience. Our team of analysts use advanced web-crawling technology to determine all potential conflicts, and our team of SEO and UX specialists identify the best steps for aligning with accessibility guidelines.
FourFront's WCAG Compliance Audit Method
Conduct Sitewide Audit to Detect Accessibility Issues
A comprehensive sitewide audit is generated using proprietary site crawling technology, reviewing all pages for instances that conflict with current WCAG compliance standards. The crawl checks for issues related to UX of the website and its technical environment found in the HTML code.
Compile Findings
The detailed findings are collected and organized so there is a clear structure of findings.
Prioritize Issues
The different findings are then prioritized so that a plan can be set that addresses each concern in order of importance.
Generate Detailed Report with Findings and Remediation Guidance
All data and analysis are then organized into a client-facing report with step-by-step instructions for remediating all concerns.
It's time to take your website accessibility to the next level.
Explore Our Full
Range of Services