Web directories were once an integral part of the early internet. Since their development as a source of business information on the web, they became an important part of SEO strategy, until Google docked the authority they contributed to a website ranking after people began abusing their power. So, very quickly, directories were virtually forbidden in SEO strategy out of the fear they would only hurt a website ranking.
However, it has been about 16 years since then, so the big question in the SEO space is: are directories still worth investing time into in 2023?
Our answer is yes, but with caution and precision, as you will read about later in this article.
In general, a web directory is a (typically alphabetical) index of the names, addresses, contact information, and websites of businesses in a category, or local area. They are now also used by consumers to find and leave reviews.
Additionally, businesses and service providers submit themselves to web directories in order to get their name out to as many people as possible. This simple process of submitting businesses to web directories worked well for a while, until the internet became too large to fit all these websites and businesses in a few streamlined places.
A Brief History of Directories on the WWW
When the internet was first invented, directories were the first and only way you could find a website, without having previous knowledge of their URL. As I mentioned before, this strategy or organization of websites worked well for a long time. (Apparently, Jeff Bezos even named Amazon "Amazon" because he wanted it to be placed at the top of all web directories). Once the internet grew to have many websites, they could not all fit into a few directories, so more directories were made with different categories and for different areas, until Google came along in 1998.
Google's inherent function essentially replaced the need for a directory. You could use a few words to describe what you were looking for, and Google would be able to find these websites for you.  So, directories found a new purpose in providing indexing juice for business websites so that they would earn a higher rank on Google, while still serving their previous functions.
Why Did Directories Lose Traction?
Now, Google was okay with people earning index juice from directories at first. People earned their spots on directories fair and square, right? By being specially selected for their product/service by the directory? This was true, until black hat SEO users began creating automated directories solely for the purpose of building Google rank authority. You could buy your spot on these directories for a small price, and people began to abuse this to earn indexing juice for their Google rank.
These directories quickly became crammed and unreliable. So, in 2007, Google stopped providing indexing juice for links from these poor directories. Since Google's goal is to provide users with the most valuable information, it did not want to give credit to these directories, or websites that purchased spots on these directories, since the spot truly did not show any value of the business.
Google even started to issue penalties for buying spots on these poor directories. As a result, the SEO world took a sharp 180-degree turn from even thinking about using directories to build website authority.
So, What Does Google Think About Directories Now?
Google has not put out a formal statement about directories in a few years, but they also do not seem to be as against them anymore either. Some SEO professionals have toyed with using some directories again, and are actually advising toward their use. But they must be used with caution and precision.
Are Directories Still Useful in Modern SEO?
Though some SEO professionals are still completely afraid of using directories, others have taken careful steps back into this strategy. But with a slightly different outlook. It is okay to use directories, but you must be sure to keep the information you submit consistent with what business information you have across the internet, and be selective in the directories you choose.
Strategies for Using Directories in 2023
Here are some basic Do's and Don'ts if you are looking to start using directories in your SEO strategy again.
Do:
Aim for a few GREAT directories: Select a couple highly recognized and respected directories to put your business's name out there. You can also opt to submit to reputable local directories if your business relies on in-person interactions and customers. Directories you choose should be relevant to your business, screen their submissions, update themselves frequently, and are high profile.
Add listings gradually: Submit your listing requests with enough time apart so that Google does not become suspicious of your behavior.
Proactively respond to reviews on these directories: One of the biggest benefits of web directories is to receive feedback from customers. Utilize these forums to respond to all comments reviewers choose to leave.
Keep your business information consistent as possible across online platforms: Outside of directory strategy, this is a good rule of thumb for SEO in general. Google likes to see that your business information is consistent across platforms to see that you are providing the proper information across the web to browsers from everywhere.
Keep your information up-to-date: Similar to the last point, it is best to keep all your information up-to-date to provide the most current information to consumers.
Do not:
Reuse the same description across directories: By diversifying your descriptions, it shows careful consideration for the different types of people that may be viewing your site from different directories.
Lose track of where your business is listed: Keep a list of every directory you have submitted your business to. If you lose track, you are at risk of not updating those directories and becoming inconsistent across the web.
Use "shady" directories: Avoid directories that accept all links or say "submit your URL," have keyword-anchored links (the name of the directory suggests it was created for links), and that claim they will earn you a "high PageRank."
Which Directories Are Still Valuable Today?
While you will have to do some research on what directories are best for your niche, there are a few general directories that are considered reputable.
1. Google Business Profile
Google Business Profile is one of the most widespread and authoritative web directories. This free service allows your business to be conveniently formatted as a sidebar on the Google search results page if your business is directly searched in Google. This is one of the most popular and easiest ways for consumers to find your business, so ensuring your business shows up in this SERP feature is a must.
Another very reputable directory is Yellow Pages. From their original directory as a physical booklet, to their movement online, people have trusted Yellow Pages as a reliable source of business information for ages. Their process for claiming your business listing is also pretty straightforward.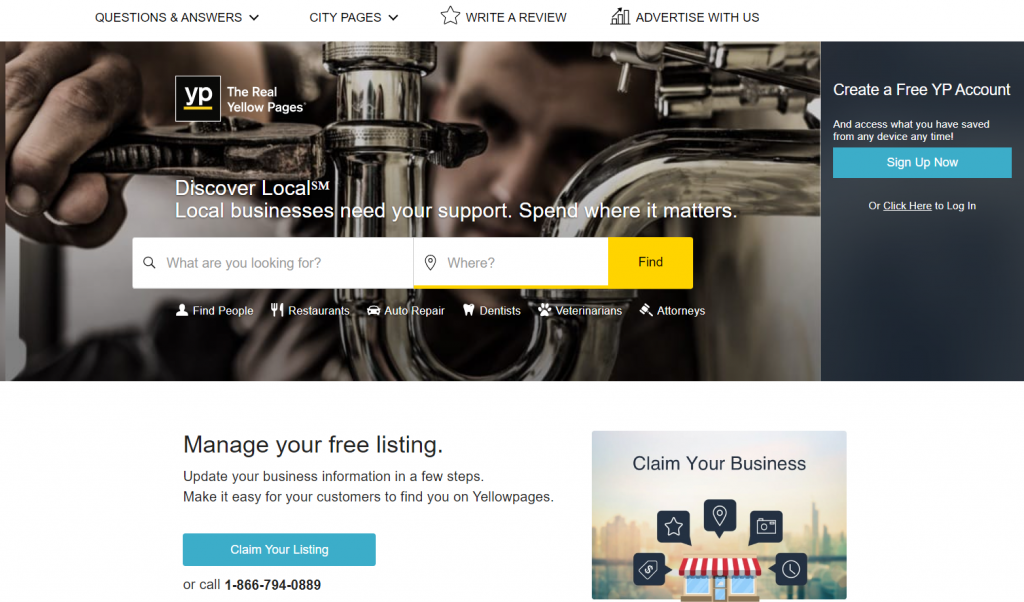 Yelp is a popular business review site that people turn to when they are researching various in-person businesses and services. It allows business owners to claim their business, respond to customer reviews, post photos, and create ads.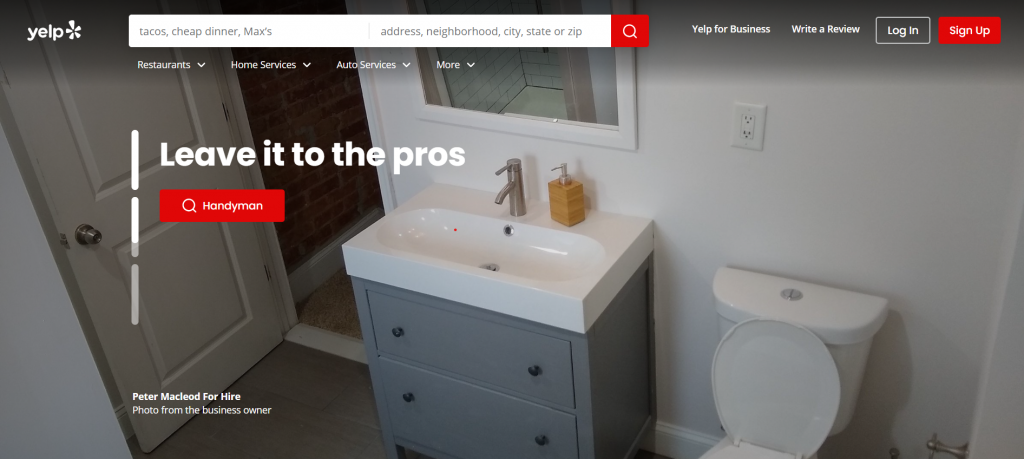 Whichever route you choose, all of these directories will ultimately help build your online presence if you properly maintain your online business listings.