A strong SEO campaign starts with one thing: strong keyword research.
Keyword research is the basis for all SEO efforts. Whether you're launching a new product or service, or you're keeping up with the demands of your current market, keyword research is going to be the cornerstone of ensuring you know what your users are searching for, how often they are searching for those keywords, and how those keywords are being serviced – and by whom.
In other words, a strong keyword strategy helps to ensure we're growing site traffic by identifying the right keywords and addressing them in the correct way (with the right intent).
If you're an SEO, there are a plethora of keyword research tools to help your efforts. But the difficulty is there are a lot of keyword research tools out there. To help guide you in the right direction, we've listed our favorite keyword research tools below – and some insight into how they might be helpful for your own keyword research.
What is a Keyword Research Tool?
A keyword research tool is any tool that helps guide your keyword research by finding topic ideas and keywords relevant to your SEO strategy.
There are multiple ways of approaching keyword research such as:
Finding a subjective starting point,
On-SERP keyword research,
Competitor research
All of these are completely valid approaches during your keyword research process.
A strong keyword research tool will also align with the goals you've set to accomplish when executing your SEO strategy. Some tools may be stronger in providing competitor insights, and some may be more helpful in guiding long-tail keyword research to find new keywords, or new subtopics, around a certain topic. At the end of the day: a good keyword research tool helps inform and dictate your keyword and content strategy to grow your website's organic visibility.
What Makes a Keyword Research Tool Great?
There are good keyword research tools and there are great keyword research tools. So what makes a keyword research tool great? Data.
Data helps separate a good keyword strategy from a great keyword strategy. As SEOs, we're inclined to target everything a user may be searching for – but sometimes that's not feasible. So, it's incredibly important we focus our efforts on keywords – and content – that will provide the best ROI for our organic efforts. Data is the lynchpin to ensuring we do just that.
There are, of course, other factors in helping to identify strong keyword research tools. These also include:
Reliability of data sources. Can we rely on the data (its consistency, accuracy, data freshness)?
Optimization guidance. Does the tool also provide insights on how to rank for a given keyword?
Is the keyword research tool cost-effective relative to your needs?
The Best Keyword Research Tools for SEO
1. Semrush
SEMrush is a popular – and powerful – tool for digital marketing. According to Semrush, the platform crawls more than 21 billion keywords in more than 130 countries.
What makes SEMrush powerful is that its keyword database is website agnostic – meaning it only crawls and collects SERP data for each keyword. Users can then use the Organic Research tool to research visibility for a Root Domain, Subdomain, Subfolder, or Exact URL. This is especially helpful for understanding not only your own website, but it's also invaluable to gaining competitor insights as well.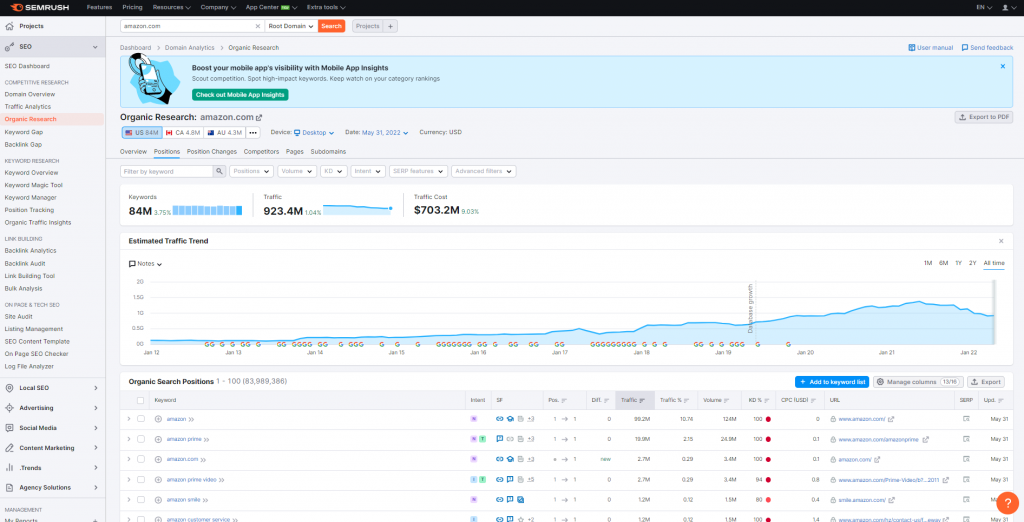 In addition to its keyword database, Semrush also provides Local SEO Insights, Backlink Metrics, Technical SEO Audits, and more.
Website: https://www.semrush.com/
Summary: Powerful keyword database allows you to see SERPs for billions of keywords across the globe
Personal favorite feature: Competitor Insights (ranking keywords, estimated traffic, etc.)
Cost: Beginning at $120 per month, depending on the type of plan
2. AnswerThePublic
AnswerThePublic is a keyword discovery tool that is based on the autocomplete functionality of Google Search.
Have you ever begun searching for something in Google, only for Google to suggest how you might finish your search?
AnswerThePublic gathers all of these autocomplete suggestions for a root keyword and organizes them into various categories like Questions, Comparisons, and more.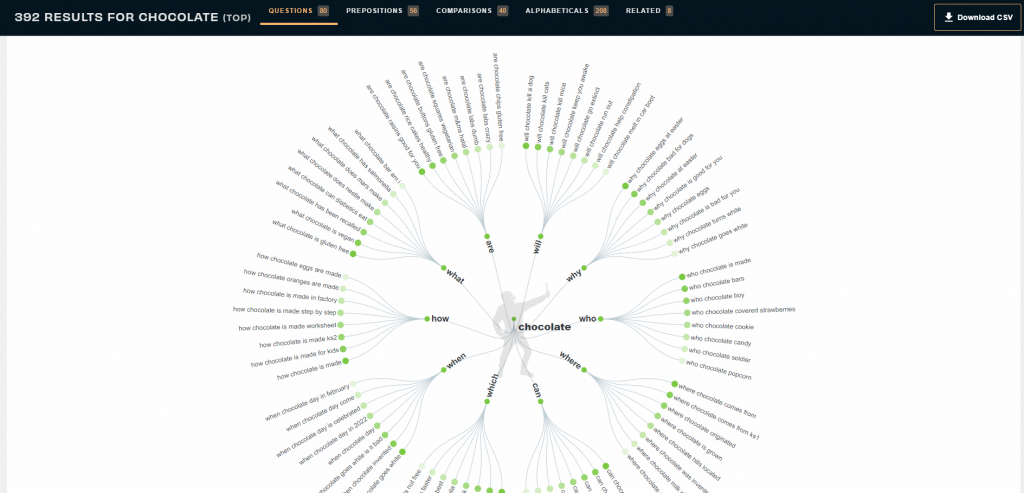 This is especially helpful to find long-tail keywords and for websites looking to build topical authority. While search volume isn't included in the base data set, it does help visualize all of the questions (and other information!) a user might be looking for around a certain topic.
Website: https://answerthepublic.com/
Summary: Long-tail keyword research tool for questions, comparisons, prepositions, etc. around a given topic
Personal favorite feature: Long-tail keyword research for FAQs
Cost: Free; Premium subscriptions begin at $99 per month
3. Ahrefs
Ahrefs is a similar tool to SEMrush; Ahrefs is a powerful keyword database with nearly 500 million keywords across the globe.
In addition to its database of crawled keywords, Ahref's Keyword Index includes 19.8 billion keywords. Ahrefs also provides data from other search engines outside of Google including Bing, YouTube, Amazon, and Yahoo. And for international SEOs, it also provides keyword information for Yandex and Baidu.
Editor's note: my personal favorite functionality of Ahrefs is actually not keyword related. I personally like its Backlink Index, which provides data such as Referring Domains, Backlinks, etc. – as well as trending some of these data points over time.
Website: https://ahrefs.com/
Summary: Powerful keyword database allows you to see SERPs for billions of keywords across the globe
Personal favorite feature: Backlink index
Cost: Subscriptions start at $99 per month
4. Google Keyword Planner
Google Keyword Planner is an essential tool for keyword research, especially for users running Google Paid Search campaigns.
Keyword Planner has many valuable functionalities, including the ability to input a keyword (or a set of keywords) and Google provides a list of other relevant keywords you may want to target based on your input. For those who are not yet sure which keywords to target for a given URL, Keyword Planner also provides the ability to input a URL, which returns a set of relevant keywords you may want to target for a given landing page.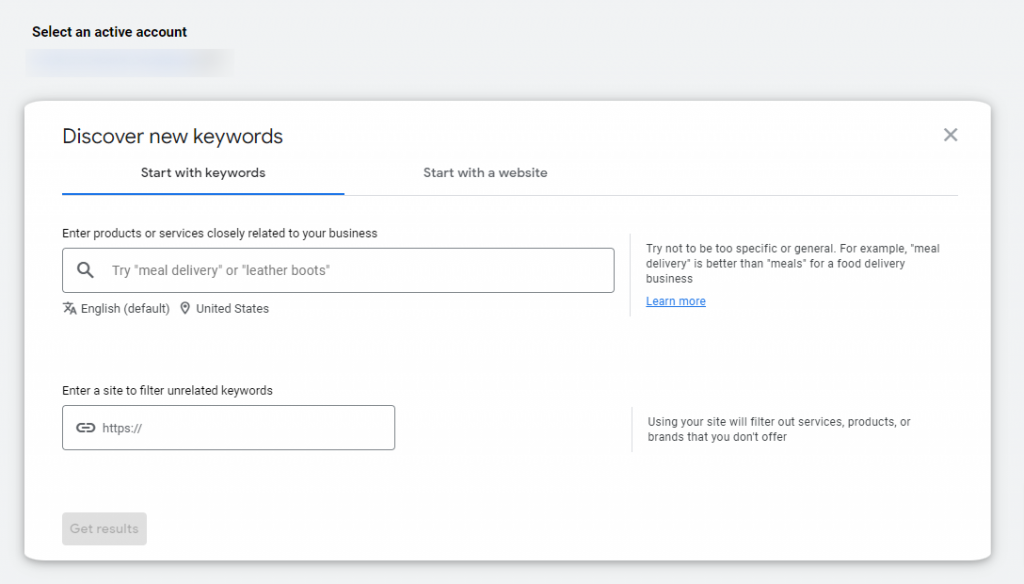 Though an invaluable tool for Paid Search, there are a few downsides to Keyword Planner. Keyword Planner is only available to Google Ads users, so if you are not active in Paid campaigns, Keyword Planner is not going to be available to you.
Keyword Planner may also be difficult to use for pages without a conversion intent. If you're looking for keyword ideas for informational pages, you may want to look elsewhere. Keyword Planner is particularly incentivized to provide keywords that provide some degree of ROI (otherwise, why bid for certain keywords?). If you're writing with the sole intent of providing information, you may want to supplement your keyword research with other tools in this list for more relevant results.
Summary: Google Ads tool providing keyword suggestions based on pre-defined keywords and URLs
Personal favorite feature: Keyword suggestions based on URL
Cost: Free for Google Ads users
5. Google Search Console
Google Search Console is a free tool available to all verified website owners that provides data regarding site performance, Google indexation and other additional tools.
Of particular importance for keyword research is the Site Performance Report.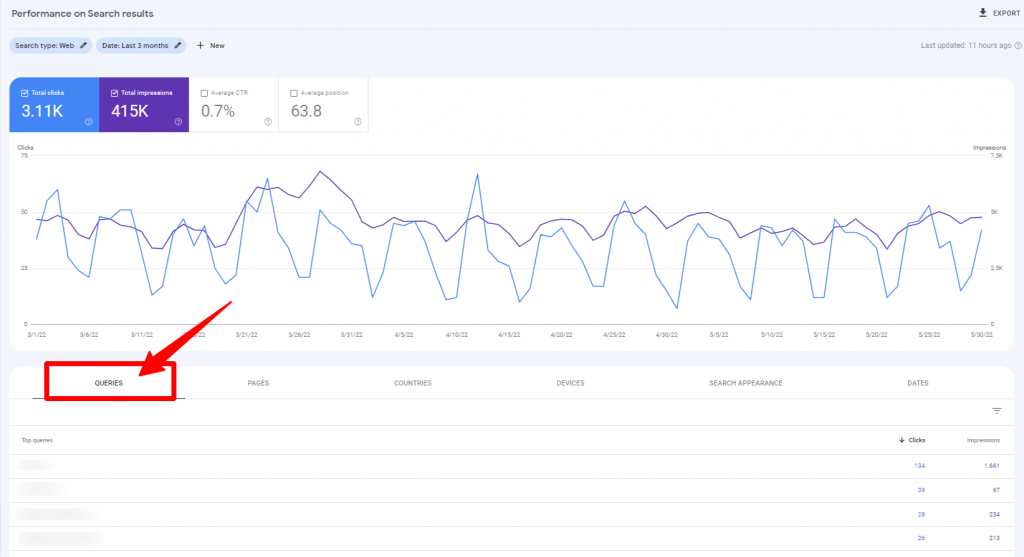 Site Performance shows your website performance within Google Organic Search. You'll be able to see all* keywords your site gets impressions for (and you'll also be able to see data points like Clicks, Average Ranking and Click-thru Rate).
Some (or maybe most) of these keywords will already be on your radar – but you'll also be able to browse through numerous keywords your site (or a specific URL) gets impressed for that you weren't aware of.
One important note: you may not get full keyword data, especially if you are a YMYL (Your Money, Your Life) website. Google states the Performance Report omits some keyword data, especially keywords that are searched for a "very small number of times" or keywords containing "personal or sensitive information." You'll likely be able to get non-sensitive, broad-level keyword information – but don't expect to see unique long-tail keywords in your keyword research.
Summary: Powerful keyword database allows you to see SERPs for billions of keywords across the globe
Personal favorite feature: Site Performance Report
Cost: Free
6. Google Trends
Google Trends is another powerful – and underrated – keyword research tool.
Google Trends allows you to input a keyword (or more, if you keep reading!) and identify not only the interest trend over time, but you also get data points around interest by location and trending related topics and keywords based on your input.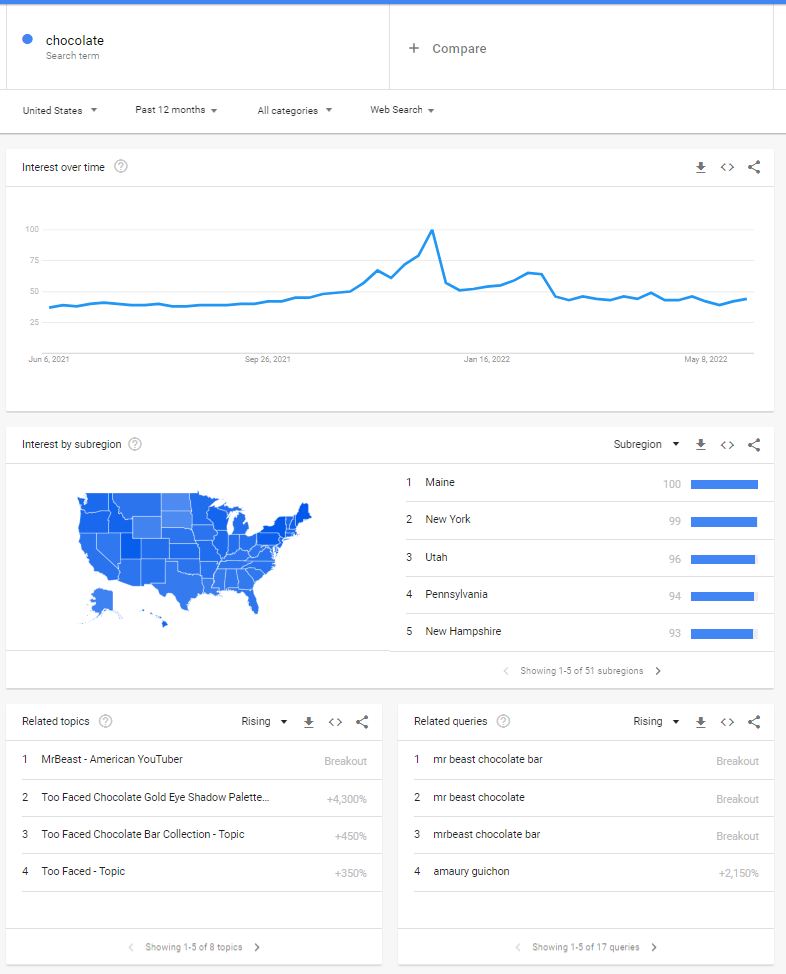 And did I mention that you can input more than just a keyword? Trends also allows you to input various entities. For example, you can input "chocolate" (as a search term), "Hot Chocolate" (as a Drink), "Chocolat" (as a film), or even "The Hershey Company" (Chocolate and cocoa products company). This allows you to do topical keyword research and find interest trends over time, interests by region, related topics, or relevant queries.
My personal favorite use of Trends is found in the tool name: identifying trending related topics and keywords around a given topic. Most keyword research tools are going to be based on historical data points. But Google Trends is real-time, and offers insights into popular topics in the moment, which is helpful for identifying content ideas and interest points that aren't going to be reflected in historical performance found in other keyword research tools.
Website: https://trends.google.com/trends/
Summary: Tool offering real-time search data for a given keyword, topic, entity, etc.
Personal favorite feature: Trending Related Topics and Queries
Cost: Free
7. KeywoodTool.io
Keyword Tool is a powerful keyword suggestion tool – and is particularly valuable for finding long-tail keywords.
Think of Keyword Tool as autocomplete on steroids. Type in any keyword and get a list of keyword suggestions based on autosuggest suggestions you get directly from search engines. Did I mention search engines (plural)? In addition to autosuggest keyword recommendations from Google, you'll also be able to get keyword lists from YouTube, Bing, Amazon.
The more unique functionality of Keyword Tool, though, comes from its ability to also provide social media research. Keyword Tool also provides valuable insights and recommendations for social media marketers, providing recommendations for hashtags and keywords for Instagram, Twitter, and Pinterest.
Website: https://keywordtool.io/
Summary: Powerful keyword database allows you to see SERPs for billions of keywords across the globe
Personal favorite feature: Social media marketing recommendations
Cost: Subscriptions start at $89 per month
8. SpyFu
SpyFu is similar to Semrush and Ahrefs in that it allows users to input a domain and provides insight into ranking organic keywords, estimated clicks, etc.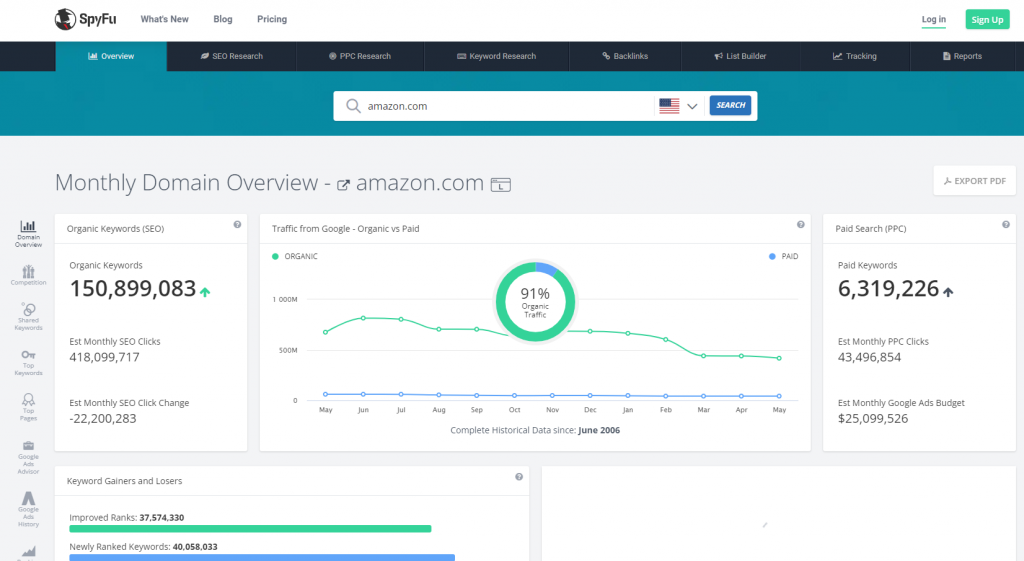 The interface varies slightly – but there's a heavier emphasis (in this author's opinion) on Paid Search within SpyFu. You won't see Organic and Paid separated into different aspects of SpyFu. Both Organic and Paid keywords are shown (separated into different tables) directly next to each other, allowing users to quickly compare things like Organic vs. Paid Competitors, Shared Organic Keywords vs Shared Paid.
In addition to competitor insights, SpyFu also provides Google Ads recommendations. Here is where you'll find the bulk of your keyword suggestions – but they are mainly tailored to Paid Search, so choose wisely.
Website: https://www.spyfu.com/
Summary: Domain research tool that provides organic and paid keyword information for respective domains
Personal favorite feature: Competitor PPC Research
Cost: Subscriptions start at $39 per month
9. Moz Keyword Explorer
Moz is a well-known SEO authority with a suite of different tools. Among them is the Keyword Explorer, a useful keyword research tool for SEOs. Keyword Explorer has two primary functionalities: the ability to explore specific keywords, and (2) the ability to explore keyword opportunities through competitor research.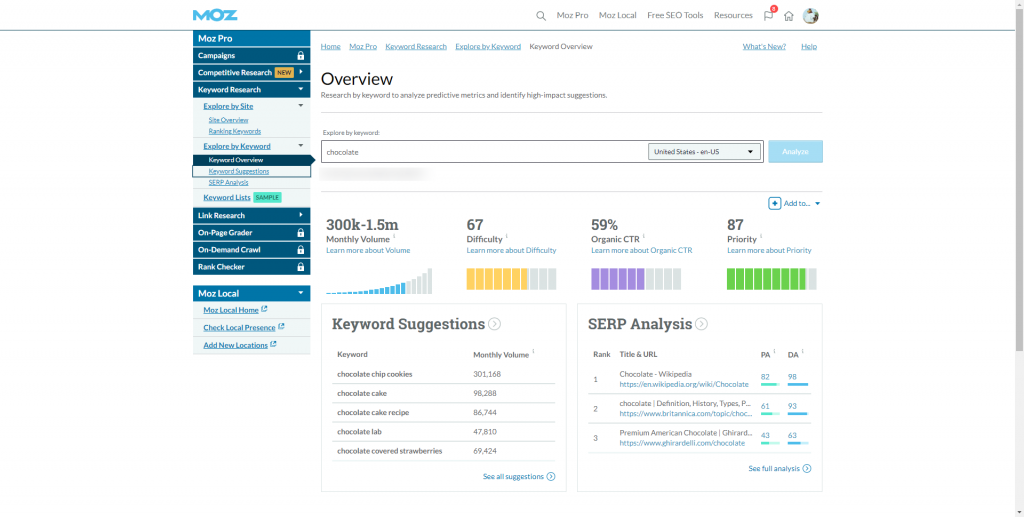 The Explore by Keyword feature allows users to input a specific keyword and get keyword metrics related to search volume, SERP behavior (such as Organic click-thru rate), and keyword difficulty.
Another helpful functionality of Moz's Keyword Explorer is its keyword suggestions, which includes a list of keywords relevant to your initial input. The SERP Analysis feature is also particularly useful, providing a visual representation of the SERP – with corresponding data points for Moz Domain Authority and Page Authority to help quantify the difficulty of ranking in organic search for a given keyword.
Website: https://moz.com/explorer
Summary: Keyword database to explore specific keywords, gather keyword suggestions, and analyze SERP
Personal favorite feature: SERP Analysis tool
Cost: Free; Paid subscription plans available
10. Keywords Everywhere
Keywords Everywhere is a Google Chrome extension that provides keyword data directly from your browser.
This is particularly helpful for "on the go" SEOers who like to do more "manual" keyword research directly from the SERP. Keywords Everywhere allows you to see relevant keyword data (Search Volume, Trend Data, People Also Search For, etc.) – all directly on the SERP.
This isn't limited to just the Google SERP, however. You can also see keyword metrics directly on search results pages for other major engines too, including Search Console, Bing, YouTube, Amazon, eBay.
Pro tip: you can even combine Keywords Eveywhere with AnswerThePublic to get keyword metrics directly from that tool without the need to gather keyword data after using AnswerThePublic.
Website: https://keywordseverywhere.com/
Summary: Keyword extension tool that provides keyword metrics inside your browser
Personal favorite feature: On-SERP keyword data
Cost: Prices based on API credits purchased; $10 minimum purchase
Choosing the Best Tool for Your Needs
Any of the keyword research tools above – and some other tools not listed – are great platforms to equip yourself with in your keyword research efforts. Remember — it's all about understanding where your starting point based on your research goals.
Ultimately, the best keyword research tool? A seasoned SEO expert. There are (obviously) a wide variety of tools, but an experienced SEO (or better yet, SEO team) will know which tools provide the most value depending on your objectives and utilize them to construct a well-informed SEO strategy for your website.