We've all been there: it's an early morning, and you need caffeine – but where's the nearest coffee shop to you? So you hop into Google Maps, search for a coffee shop, find what you're looking for, and start your directions to get that double shot of espresso, pronto.
Seems simple enough, right? Well, there's actually a lot happening to make sure you're getting that ample dose of caffeine to get you through the day. And it's powered largely by information taken from Google Business profiles.
Google Business Profile (formerly known as Google my Business, or GMB) is a free tool available to all businesses used to manage their online presence and improve visibility in local search results – specifically in Google Maps and the Local Map pack in search results.
Google Business allows business owners to input important information about their business, including business name, address, phone number, website, hours, and other key information that might be helpful to customers. It also allows you to add photos, respond to reviews, and post information (in a social media-esque format).
Customers can also leave feedback about your business; they can provide reviews, ratings and even offer suggested updates to business information. This also allows you to respond to reviews and interact with your customers on a new level.
But the key question: how (and why) do you optimize your Google Business profile? Let's get started.
Why Optimize Your Google Business Profile?
Creating a well optimized Google Business profile is important for all of the reasons mentioned above. Your Google Business profile is a hub for customers looking for information about your business online.
A well-optimized Google Business profile allows business owners to:
Obtain (and control) how your listing appears to potential customers
Interact with customers, responding to reviews and ratings
Feature photos and other posts to highlight your business and its offerings
Gather insights on how your audience interacts with your business listing (like Directions, Phone Calls, etc.)
But it's not just about finding information: it's about converting customers. According to Google, "customers are 70% more likely to visit [your business] and 50% more likely to consider purchasing from business with a complete Business profile."
Not only that, but it makes your business appear more reputable too. Google also cites that customers are nearly three times as likely to consider a business reputable with a complete, optimized Google Business profile.
So you might be asking yourself: why?
Well, it starts with being able to find your business via local SEO. An optimized Google Business profile increases the likelihood that customers are able to find your business online. This includes search visibility in key Google platforms like Google search results and its enhanced results (like the featured Map pack), as well as other tools like Google Maps.
A well-optimized Google Business profile also allows customers to:
Find your business listing in Google search results and Google Maps
Obtain key information about your business
View existing customers' ratings and reviews
How To Claim Your Listing
How to Claim an Unlisted Google Business Profile
Go to the Google Business Profile website. 
Sign in or create a Google account.
Enter business information.
Verify your business.
Claim your business.
Provide information.
Keep your profile updated.

How to Claim a Listed Google Business Profile
Search for your business on Google.
Claim the Business Profile.
Verify.
Review and edit.
Keep your profile updated.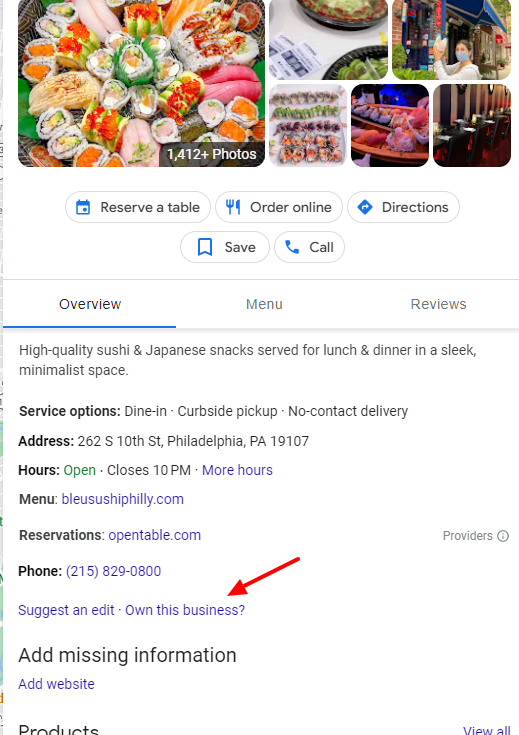 What to do if a Google Business Profile has already been claimed
If your Business profile has already been claimed, you'll need to go through additional steps to claim ownership of your profile.
This may include reaching out to someone in your business or organization that may have already claimed your profile, or contacting Google support to verify your identity as a representative of your business.
Features of Your Business Profile
There are many features on your Google Business profile that can be optimized to enhance your listing – and your local SEO visibility. Each of these elements presents a new opportunity to introduce your business, provide additional information, and interact with your customers.
Manage Your Basic Information
You can manage your basic business information, including your Name, Address, and Phone Number (N-A-P). Consistent N-A-P is crucial to helping Google – and your users – understand the basics of your business and display it consistently across the web.
Feature Photos and Videos
Photos and videos are a great way to make a first impression with your customers. According to a DigitalMaas study, businesses that added photos received 45% more requests for directions and increased website visits by as much as 48%.
Featured photos and videos will appear within your Google Business profile. Users will have the ability to scroll through photos and engage with videos directly within your profile.
If you need help getting started with adding photos, Google also provides tips for different types of business photos that may be useful for your Google Business profile.
In addition to the "basic" information you can provide, business owners can provide detailed information that may be relevant to their business. This includes information related to Accessibility, Amenities, Special Highlights, Offerings, Languages, Planning, and more.
Optimizing your Google Business profile with these special attributes not only helps provide key information to customers, but it also helps paint a clearer picture for customers on what type of experience to expect from your business.
Custom posts are similar to posts you'll find on social media websites. Custom posts allow you to post relevant announcements pertaining to your business.
Whether you're posting about an upcoming sale, announcing the opening of a new store, or simply showcasing your business, custom posts can help personalize your business and entice users to engage with your Google Business profile.
Optimized Profile Examples
Optimizing your Google Business profile can not only enhance your local SEO presence, but it also makes your profile stand out against other Google Business profile listings. With proper optimization, your Business profile will be more engaging and appealing to stand out amongst the crowd.
Optimized Knowledge Panel
An optimized knowledge panel helps communicate key information about your business: location, service options, hours, contact information, and more.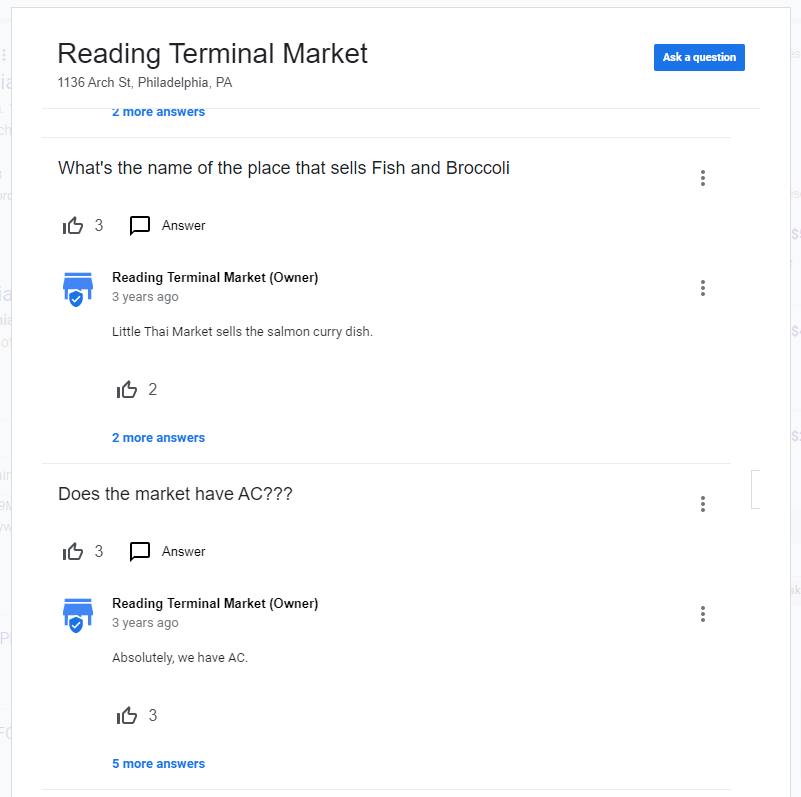 It's important to answer key questions from your customers. It not only helps to get their questions answered, but it also helps to personalize your brand.
Ideally, you'll be able to respond to all customer questions – but you can also see which questions get the most "votes" from other customers to help you prioritize common questions.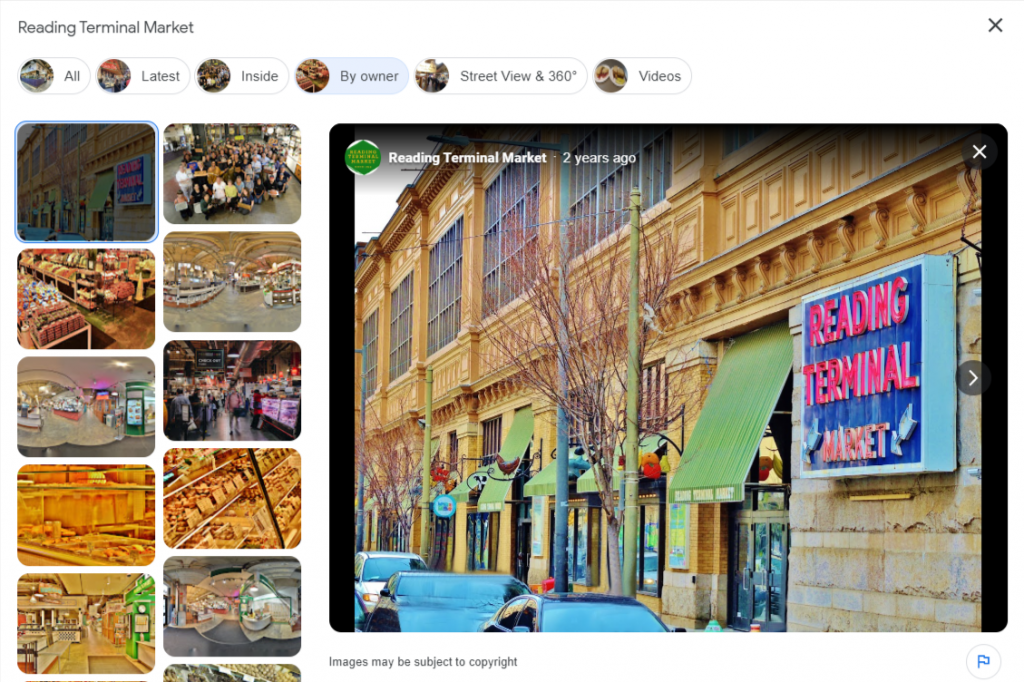 Upload photos to give your customers additional visual engagement. You can upload pictures of your storefront, interior photos of your business, and more.
Google also recommends photos of your products, "action" photos of your business to give customers a better understanding of your work, and photos of your team to show the personal side of your business.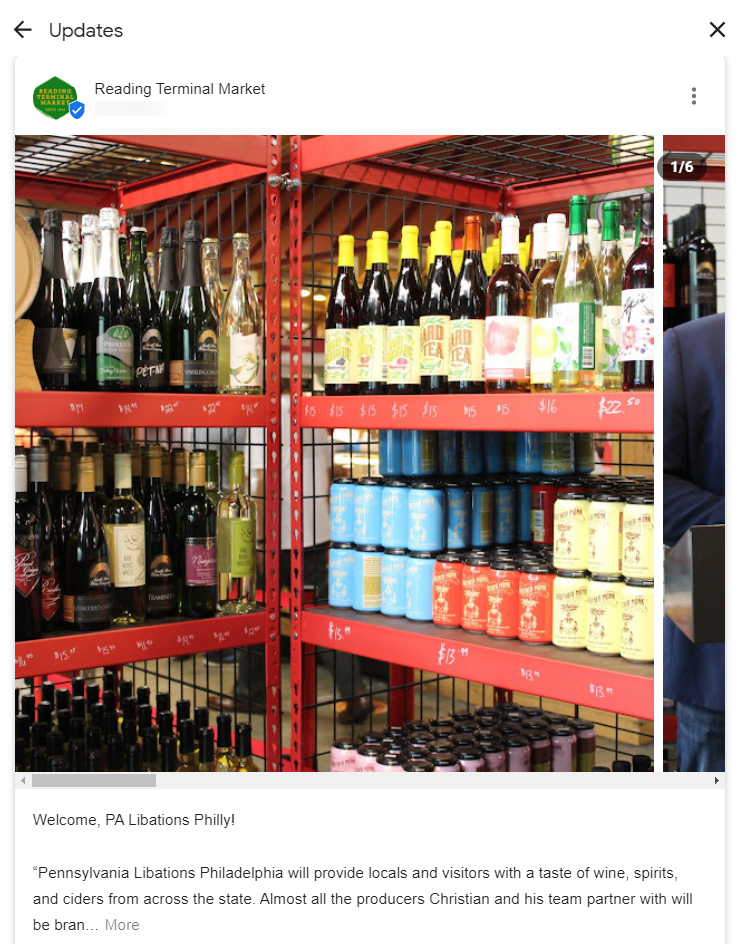 Use custom posts to keep your customers up-to-date with the latest news and information about your business. You can highlight new products, sales and discounts, or even share updated business information with your customers.
Engage with Your Audience Through Local Search
Google Business profiles are a powerful tool to reach your audience online. By optimizing your Google Business profile, you can have a strong local SEO presence in your target area(s), get found by your potential customers, interact with customers, and ultimately grow your business.
If you want to stand out with a strong local SEO presence, reach out to a FourFront specialist to learn how to get started.