What are the most popular museums in Philadelphia?
If you're like most members of our team, you would probably assume that prominent venues like the Art Museum, Franklin Institute, Barnes Foundation, and American Revolution Museum rank at the top of the list. However, our dive into the data turned up a few surprises!
Our latest free dataset, Top Museums in Philadelphia According to Google Ratings, challenged our assumptions and opened our eyes to some hidden gems that had previously been off of our radar. It's safe to say that some of us have some new weekend plans as a result.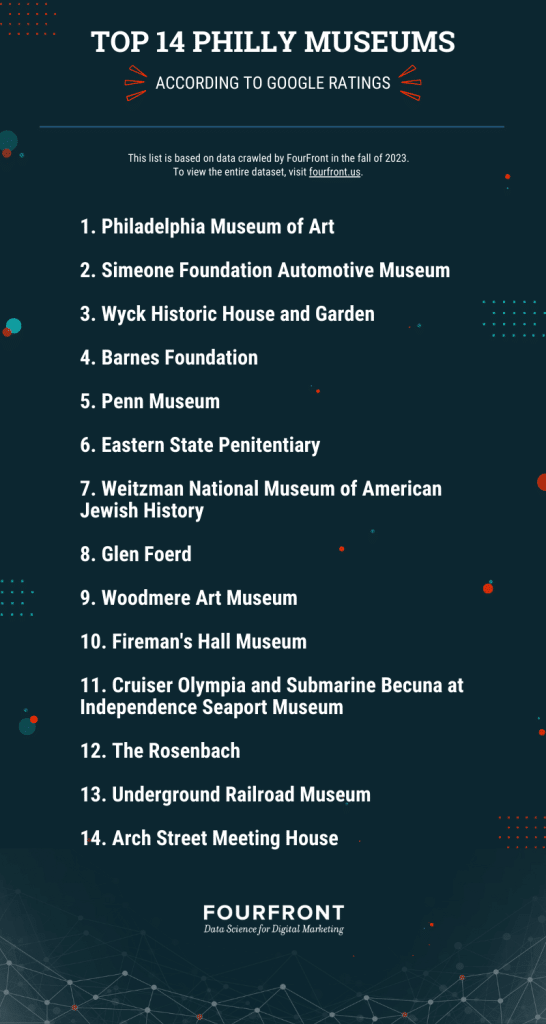 What the Data Tells Us
Obviously, the first question that our team wanted this dataset to answer was: "Who got the top rating??"
Upon sorting the list by Average Rating, a top 10 list emerged. However, there was an issue of potential misrepresentation: While some museums exhibited a perfect 5.0 rating, their total number of reviews significantly lagged behind others.
Top 10 Museums (Raw)
This prompted a subjective re-evaluation: What should be the minimum number of reviews for a museum to be considered in the top 10?
The review range spanned from a mere 1 review (as observed in the case of Eric Berg Sculpture) to a staggering 18,000+ reviews for the Philadelphia Museum of Art. The average stood at about 1,000 reviews per institution.
Considering these factors, a threshold of 100 reviews was established, excluding 39 museums and leaving 35 in contention.
Top 14 Museums (Refined)
Applying this threshold turned up an interesting result: Three museums shared the honor of being the top-rated, boasting an average 4.8 rating on Google, while the subsequent 12 held a 4.7 rating.
This extended the top 10 list to the top 14, owing to the presence of 11 museums tied with 4.7 stars.
Many familiar names made the list, but alongside them were lesser-known locations like the Automotive Museum in Elmwood Park. The presence of numerous institutions with fewer than 1,000 total reviews hinted at the possibility that some of the most engaging museums in Philly might remain lesser-known.
Other key insights from our analysis include:
The filtered list's average Google ratings ranged between 4.3 and 4.8, with an overall average of 4.6 across the 35 institutions.
The count of ratings ranged from as low as 105 (Arch Street Meeting House) to as high as 18.5K.
The collective count of ratings and reviews across all 35 Google profiles surpassed 78,000.
The average number of reviews per institution stood at 2,246.
The Society Hill neighborhood emerged as the leader in this filtered list with 13 museums, followed by Old City, Germantown, and Logan Square, each housing 4 museums, and Center City East and Chinatown, each hosting 3.
Many museum Google Profiles have optimization opportunities. For example, several of the top museums' websits are listed using the old "http" URL. Updating citation listings to us "https" website links is a simple way to improve local SEO.
How We Collected This Data
Our team crafted this dataset to offer the community a unique perspective on the city's cultural institutions, and to have some fun with our team's custom web crawling and analytics capabilities.
Using web scraping technology, our team trained a bot to identify all Google Business Pages categorized as 'Museums' within the Philadelphia area. Once that list was compiled, we were able to extract information such as the total number of reviews, average rating, and other relevant data points. Finally, we blended this data with our previously created Philly Neighborhoods dataset to add another unique layer of information.
After a couple rounds of QA, we had a finalized dataset!
Potential Biases of this Data
While the data is intriguing, it's crucial to note that it relies solely on Google ratings, providing only one perspective on the popularity of each institution. Entities actively soliciting Google reviews are likely to garner more reviews, and the reviews solicited are more likely to be positive. This potentially biases the data toward museums with effective outreach strategies, skewing the results.
Moreover, this data's reliance on Google Business Profile categorization might have led to the omission of some museums, as they either lacked a Google Profile or weren't categorized conventionally.
Next Steps
Thanks for reading about this data!
For those in the Philadelphia area, we encourage you to explore the diverse range of cultural institutions available to us. If you enjoy your time at one of these museums, be sure to share your experience online to help others follow in your footsteps.
Lastly, if you have any questions or feedback on the data, we'd love to hear from you. Please reach out to our team at data@fourfront.us.