HOW TO COLLECT LOCAL SEARCH VOLUME
Local keyword research is the process of finding keywords that are searched by users with a local intent. This can include searching for local businesses to visit in the near future or examining local options through reviews or other online resources. It is especially important to use the correct keywords for local searches, as it can determine whether you appear for the appropriate local searches that your uses are using to find you.
In addition, local keywords will help inform:
How users are searching for your product or service
How many people are searching locally for your service
What information they are looking for when searching
What steps of the funnel are users in when they are searching locally
Ultimately, a successful local SEO strategy will help drive more engaged users to your store. This is done through improved local rankings and more purposeful content that speaks right to your local customer.
Why Do Local Keyword Research?
Many local businesses feel that they already know their customers intents and the related keywords. Other business owners don't place the right priority on keyword research, feeling that other marketing strategies may be enough to connect with their customer.


The truth is that if you are one of the select few in your area that invests the proper time into local keyword research, you are giving yourself a major strategic advantage. You are able to study your user in terms of Google, which is the most common resource customers use to find your business. The insights extend beyond simple rankings, and can help determine your entire digital and in-person strategy.
A digital marketing strategy should be built on a foundation of proper keyword research, which will help you create targeted pages, respond to local search behavior and better understand your market around you.



Structure of a Local Keyword
A local keyword often has the same anatomy, which helps you understand how to detect the right keywords, as well as what kind of information you can pull out of it.
The different elements of a local search includes:
Modifier – Commercial adjectives commonly used when describing a product or service such as "best" or "top"
Root Keyword – A business' products or services
Local Detail – The name of a city, state, or region where the user is searching for the core term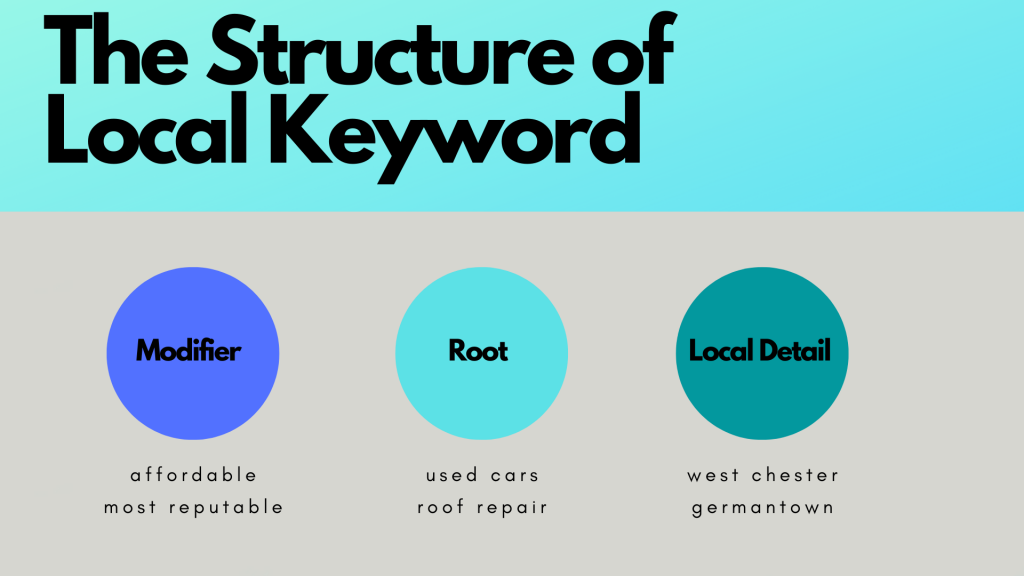 With this structure in mind, you will be able to better understand your own business. For example:
Focus on your root keywords first and foremost, which will most likely be your product or service
Utilize modifiers to create a list of related keywords
Use the modifier and core term to make a list of keywords by intent
Include your locations as the last step. This can be done at various levels dependent on the scale of your business and the range of customers you believe you can serve. Focus on cities and towns around you, making sure the scale isn't too big to be overly broad, or too small to be overly-specific.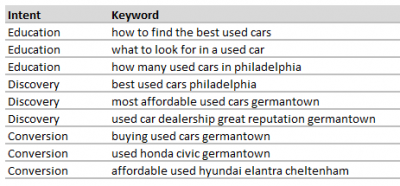 What is Local Intent?
Local intent can be a confusing term to understand, but is important to clarify in this stage of your keyword research. There is a general local intent that is relatively simple to see: there is often a local pack or a set of Google Maps results. Local information in the SERP has details like:
A map
Local business rankings
Addresses
Phone numbers
Reviews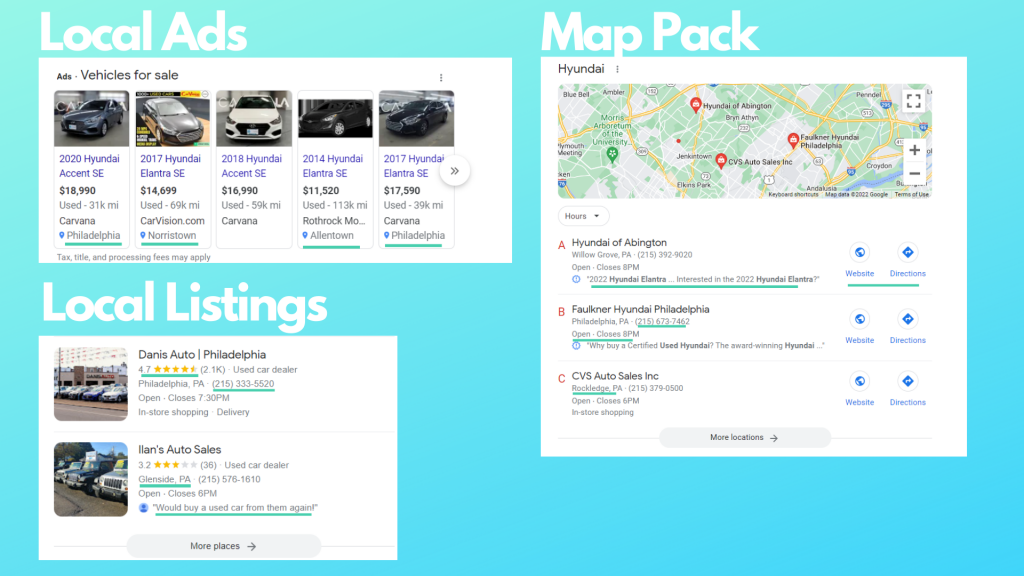 Getting Started with Local Keyword Research
Now that you, hopefully, have a good sense of the basics of local keyword research, you can begin the specific steps. The brainstorm stage can begin at this point, it is not time to start generating your list or going to the SERP.
As part of your brainstorm, consider things such as:
What are all of the different services your business provides?
What type of people are searching for product XYZ?
Is there seasonality to your service?
Is there a general demographic or set of popular demographics that will be using your service?
Write out your thoughts before doing any actual research. This will help guide your research as you go forward.



How to Collect Local Search Volume
There are many tools you can use to collect local search volume. The two primary resources we use are SEMRush and Google Ads Keyword Planner. SEMRush has a free version, but in order to use Keyword Planner you will need to have an active Google Ads account.



Google Ads Keyword Planner
Google Ads Keyword Planner is a valuable keyword research tool, specifically for the ability to collect search volume by keyword. This tells you how many users, in an average month, are searching for a given keyword. You also have the ability to filter your results by city and county, which may provide useful information on search patterns for each of your target cities or towns. There is also trend data that goes back multiple years, informing any potential seasonality to your keywords.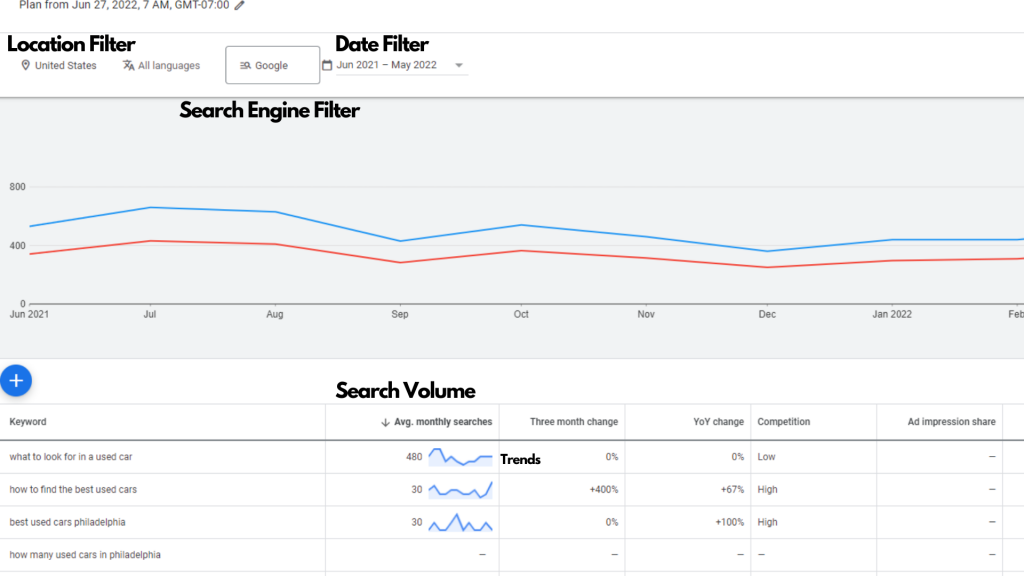 If you use the location filter, as seen in the above screenshot, you can filter results down to a city, or even a town, level. The screenshot below highlights how that feature works. It provides an estimate on the amount of reach a given location provides, and will offer an alert if your location does not have enough reach to provide helpful results. If your location does not have a wide-enough reach for this research, you may have to include a bigger location (instead of filtering by town, you can filter by county).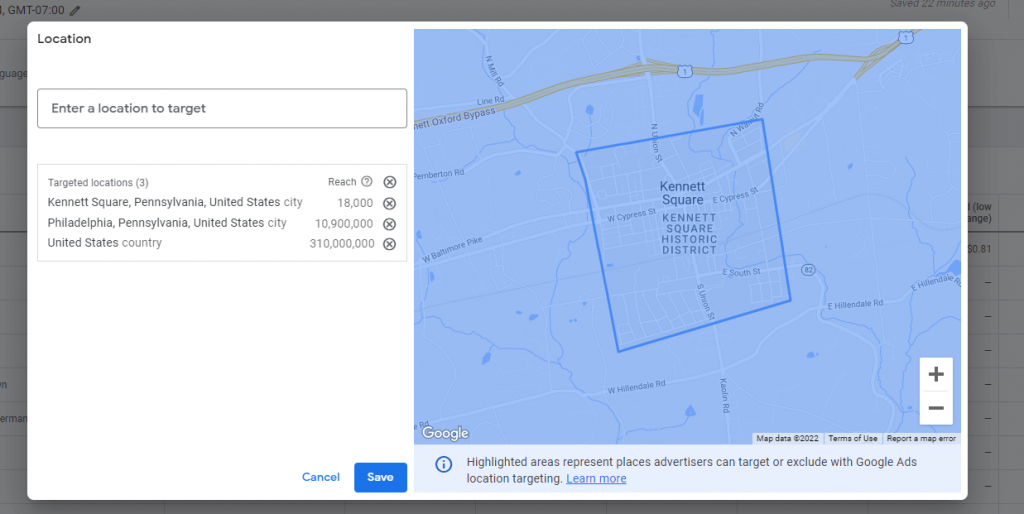 SEMRush
SEMRush also has search volume data, although there aren't as many filters and perspectives as Keyword Planner. The tool provides many other resources though, including local insights and topic brainstorming.
The Keyword Overview feature allows you to enter localized keywords. This will return similar data as you would find in Keyword Planner, including search volume, a trend, and PPC information. You can also see information related to different features that exist on the SERP. This is especially helpful for local search, as you can see whether a given keyword returns a map, as seen by the map icon in the list.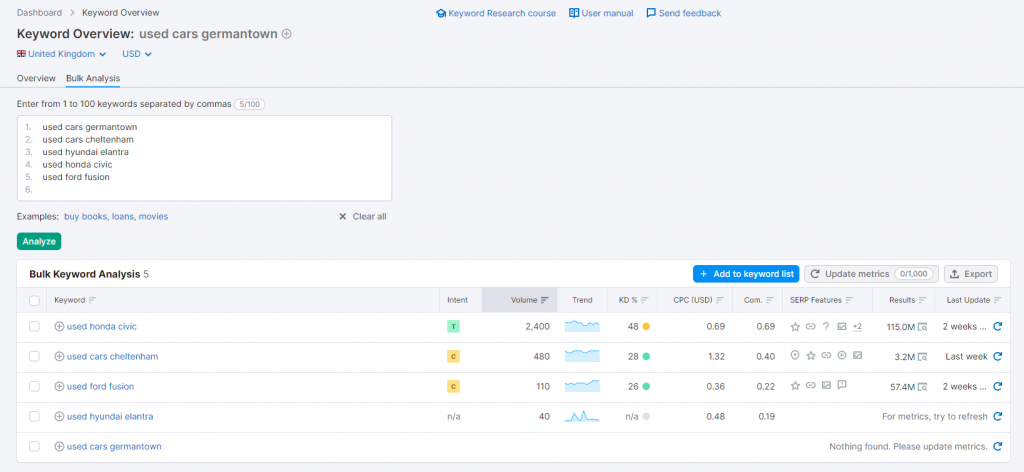 The Keyword Overview tool does not allow you to filter any further than the country level, but if you set up Position Tracking for a certain domain, you will be able to filter down more locally. When you are setting up Position Tracking, you will have the ability to set up location-specific data. As seen in the screenshot below, you can filter by city, and include city-specific search volume.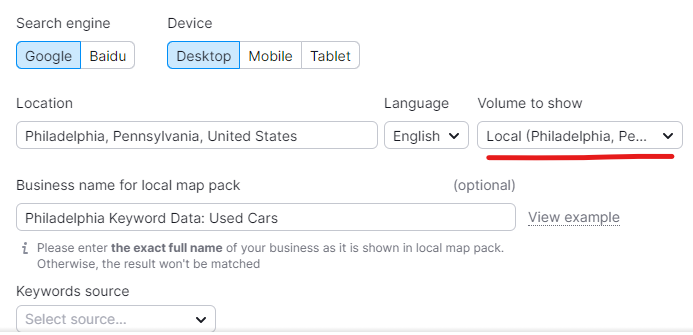 Once the report is run, you will see 'Visibility' set up as the default view. Search volume is in the far right column, highlighted in green below. Each keyword will need to be manually added as 'tags,' but at this point the data you return is location-specific and provides additional metrics such as estimated traffic, ranking and difficulty.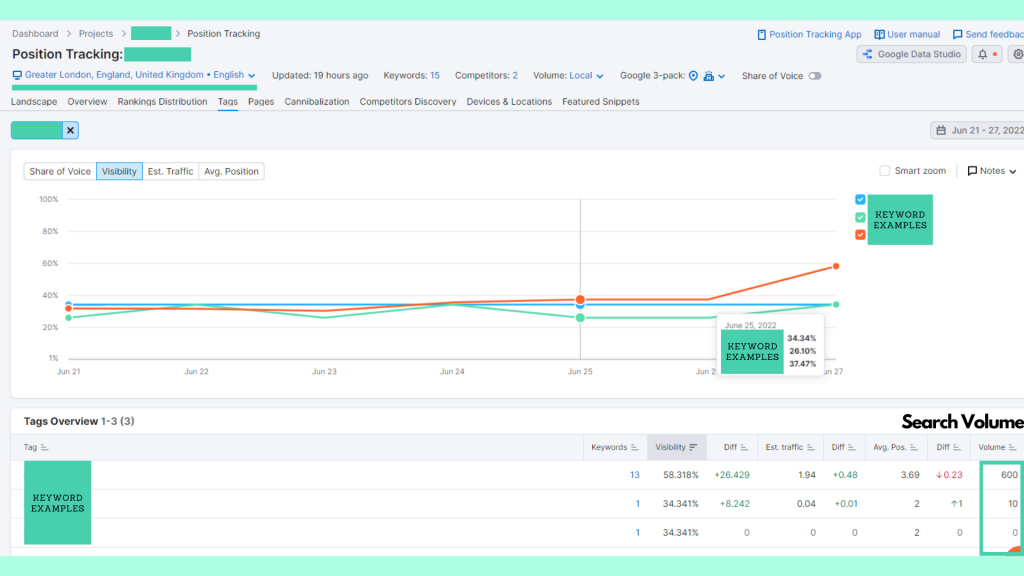 Additionally, the Keyword Magic Tool will allow you to expand your initial search through automated recommendations. You will also be able to use a Questions filter to find targeted content opportunities responding to popular questions related to your root keywords. All of the filters at the top of the page will be helpful, looking for different kinds of keywords (broad match is the default, which will give you the best list for brainstorming purposes).



Additional Keyword Research Tools
There are also many other keyword research tools that can help guide your research. You will most likely not be able to find localized search volume data, so Keyword Planner and SEMRush would still be the primary recommendations for that purpose.
Organizing Your Local Keywords
Once you have a set of keywords and corresponding search volume data, you should be organizing them based on your company goals. Different kinds of organization includes:
Focal Point: Which product or service are these keywords attached to?
Intent: What is the goal of this kind of search?
Location: Each city or town you are targeting
This will help you sort each keyword by the intended purpose. By including search volume data into this list, you will be able to see the relative demand for each focal point, each intent, and each location.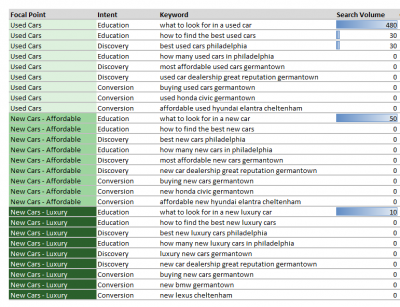 How to Deal With Multiple Locations
If your business has multiple locations, you should have keywords that target each one. You will not need a separate strategy for each location, but each location page on your site should be responding to unique keywords. Use the location filters in tools like Keyword Planner to ensure you are finding searched and targeted keywords for each location. Google will then be able to serve the appropriate page in search results for each localized query. Some popular strategies for businesses with multiple locations includes:
Creating landing pages for each physical location
Linking to each location page from easily-accessible locations (footer, locations page, homepage, etc.)
Creating a Google Business Profile for each physical location
Creating blog posts for localized long-tail keywords
If you follow these steps with the right keywords in mind, you will be thoroughly accounting for your multiple businesses.



When to Revisit Local Search Volume
This research is not meant to be done once and considered complete. You are building a foundation that should inform your entire strategy, and that foundation should be cared for over time to make sure that it is still sound. Many things can affect your keywords, including:
New trends in your industry
Different needs of the area
Population changes in your area
New products or services in your industry
On average, a set of local keywords should be revisited around every 6 months. It doesn't need to be as exhaustive as the first time, but you should be confirming that all of your keywords still have roughly the same search volume. If any keywords are dropping or rising, that could indicate a shift in trends. This kind of regular maintenance is crucial to ensure that your digital strategy continues to be built on solid local keywords.