In the world of search marketing (a subset of digital marketing), Search Engine Optimization (SEO) is the practice of earning traffic from organic search, while Search Engine Marketing (SEM) obtains traffic from both organic and paid search (also known as pay-per-click or PPC).
To those who are unfamiliar, SEO and SEM may seem like separate practices that have nothing to do with each other. However, any digital marketing expert can confidently tell you the differences between the two and how they can work in tandem to enhance your business's marketing efforts.
While they both utilize their own unique strategies to drive traffic and revenue, both SEO and SEM are proven ways to market your business on popular search engines like Google, Bing (with some help from ChatGPT), and many more!
In this guide, we'll go over the basics of SEO and SEM. So, whether you're a small business owner needing some direction or a seasoned digital marketing professional needing a refresher, you can make a more informed with your own marketing plans.
What is SEO?
Search engine optimization (SEO) is the practice of obtaining traffic solely from search engines. There are plenty of ins and outs for how SEO is actually performed (as any SEO will tell you!). But in any case, the process boils down to three general areas:
On-page SEO – Creating content that search engine users want and search engine crawlers prefer based on keyword research
Off-page SEO – Optimizing elements users can't see but still play a pivotal role in your website's performance, like link patterns, business profiles, and customer review management
Technical SEO – Making sure your website has a sound coding structure so that it's findable, crawlable, and indexable by search engines
When you invest in improving these three key areas, the result is higher rankings for your website in the non-paid section of a search engine results page (SERP).
Achieving higher SERP rankings is the bread and butter of any SEO strategy, even when obtaining the highest ranking possible isn't necessarily the goal. Depending on how competitive the keywords your business wants to target are, you might aim for rank in the middle of page 1 search results as opposed to the covered rank 1 position.
No matter how high you set your ranking goals, the main point of SEO is to have your website become visible to users searching for keywords that align with the products, services, or content that your business provides. 68% of online experiences start with a search on a search engine, so you don't want to be missing out on all of that opportunity.
All of the heightened visibility generated by SEO results in a wide range of benefits, such as:
1. Being (mostly) free!
SEO's biggest expense is the time you spend optimizing your website's organic presence. If you're up for handling it by yourself, you don't have to spend a dime if you don't want to! However, without the right knowledge and toolkit, continuously advancing your SEO strategy can be a real headache. There may come a time when you have to pull in a team of SEO strategists to help revamp your business' organic search marketing efforts.
 2. Boosting your brand's credibility
Websites that rank at the top of SERPs are usually seen as highly authoritative and trustworthy in the eyes of search engines. The longer you maintain those high rankings (think one year or more, depending on the industry), the stronger your credibility will become. This can have a ton of positive spillover effects, like natural increases in keyword rankings without having to do further SEO improvements or free brand awareness.
3. Long-term results
SEO is a long-term strategy that should never come with short-term guarantees. If you're thinking about partnering with a strategist who's promising page 1 rankings in a matter of weeks, save your time and look elsewhere. Well-rounded SEO strategies can take anywhere between 6 to 18 months to just start seeing results. But when the results do come, they can snowball rapidly into even more gains.
4. Better user engagement
As you craft content that your ideal users and customers want to find, you'll begin to see not only an uptick in traffic but an increase in the time they spend browsing your site. Generally, the more time a user spends on your site, the more likely they are to engage with it, like completing a conversion. This quality traffic can help your business achieve its core objectives, boost revenue, and build a long-lasting and loyal customer base.
5. An unseen advantage over your competitors
Depending on which type of industry you operate in, it's very likely that your competitors are investing in SEO. That means that you could lose valuable organic traffic and market share by not investing in SEO yourself. But by doing so, you can help your business compete even against your biggest competitors – and with enough effort, outrank them!
What is SEM?
Search engine marketing (SEM) is a catch-all term that includes both SEO and PPC. Similar to SEO, the goal of SEM is to earn traffic from search engines. However, it also incorporates pay-per-click (PPC) advertising for an added boost.
In simple terms, SEO is a type of SEM.
At its core, SEM allows you to earn traffic from both the paid and non-paid sections of a SERP.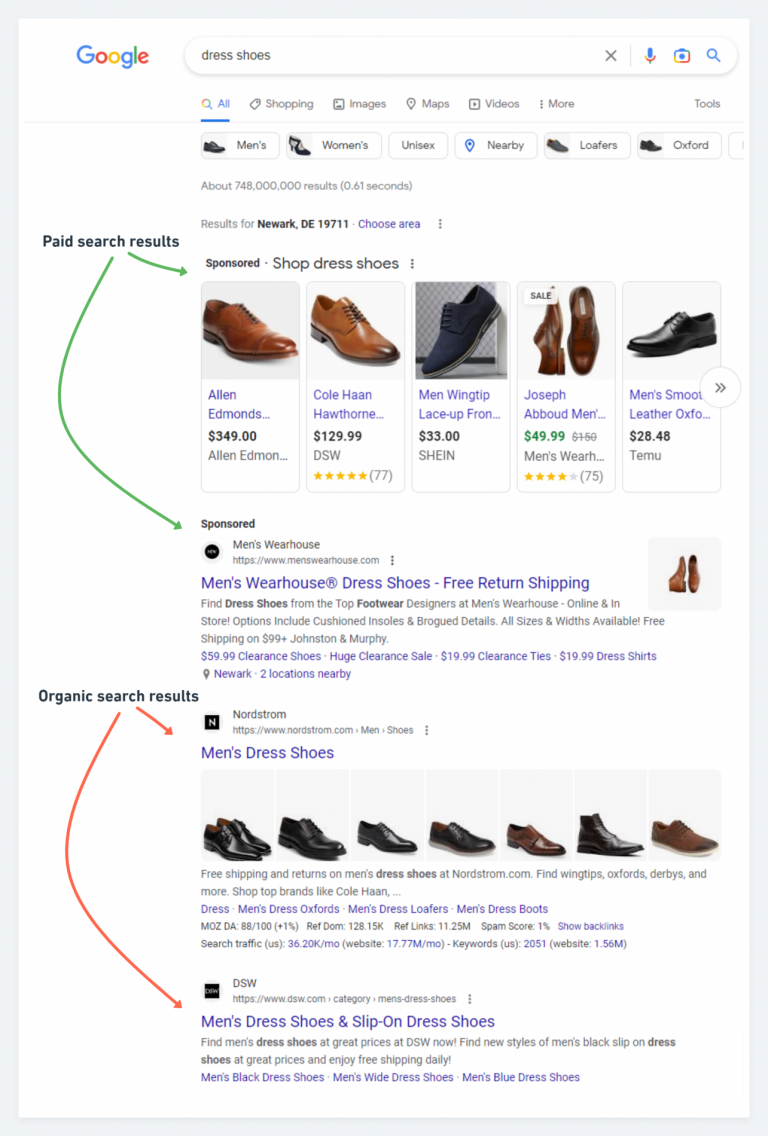 Similar to SEO, the PPC side of SEM comes with its own core functions:
Bidding – Bidding is the ultimate buzzword in PPC. No matter what platform you use, bidding determines whether your ad appears for the specific keyword you want it to.
Quality Scores – A qualitative measurement of how good of a match your ad is for the keyword you're targeting.
Landing Page Design – If you're paying for users to come to your site, you want them to convert in one way or another. Careful landing page design makes sure users are compelled to actually convert.
Ad Groups – Help search engines categorize which keywords will prompt your ads to appear, what your ad will look like when it does appear, and which landing page the user will be taken to.
PPC can be an integral part of your business' marketing plan. 79% of marketers even agree with me! But the real fun comes once you learn how to blend paid advertising with SEO for even better results.
As you begin to integrate the basics of PPC into your overall SEM strategy, you'll start seeing plenty of benefits:
1. Instant results!
Unlike SEO, PPC is instant. As soon you create your first set of ads, the search engine you're advertising on will start to serve them right away. And with the right targeting and ad copy, you'll see clicks coming to your website within minutes! This is the ultimate compliment to SEO when it comes to how long it'll take to see results from both practices.
2. High-quality landing pages
Google and other search engines look at your entire website when assessing its quality (looking at you, Helpful Content Update). This means that whether you build a landing page with SEO or PPC in mind, its final quality contributes to how search engines view your site. Since landings pages for PPC campaigns must be filled with trustworthy and actionable content, you don't have to devote a lot of extra brain power to crafting a well-designed landing page that search engines will love.
3. Better audiences for retargeting
Users who visit your website at one point or another are eligible to be retargeted through paid advertising. This enables you to serve a hyper-targeted ad in front of those users – or a specific subset if you choose – in order to get them to convert. While most of these users will originate from your PPC efforts, your site's high-quality SEO traffic is also eligible for retargeting. Using both strategies will give you a more robust pool of customers to remarket to in the hopes of driving more conversions.
SEO vs. SEM: A Comparison
Now that we've covered the basics of SEO and SEM, it's clear to see that there are plenty of differences and similarities between the two.
You may be quick to dismiss one or the other based on your business's marketing goals, but there's always a valid use case for using one strategy over the other.
Here's a diagram to help recap the pros and cons of SEO and SEM: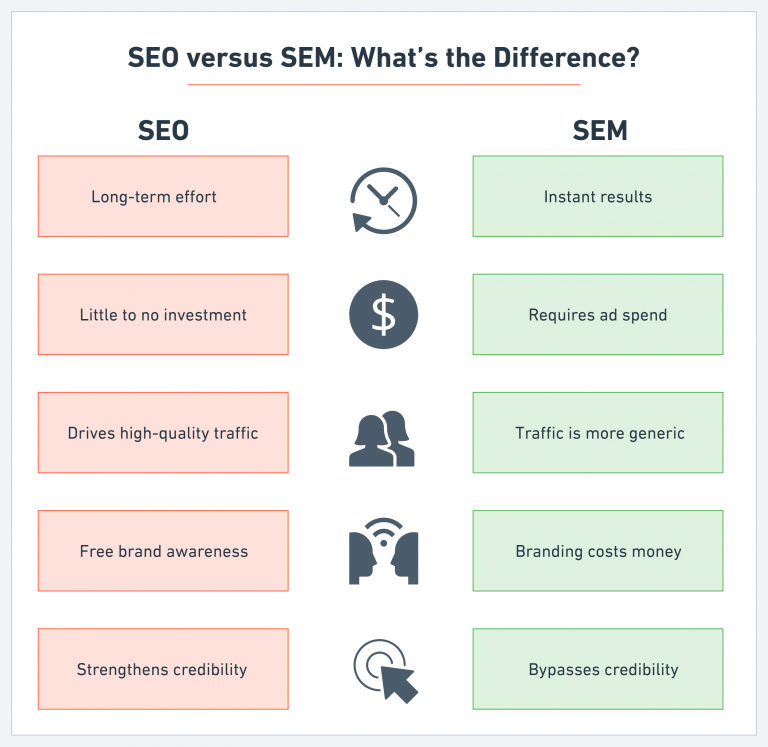 Which Option is Best for Me?
Choosing between SEO and SEM is highly dependent on your business's specific marketing needs. There are certain scenarios where PPC will be your best option, but you can also find yourself better off by running both paid ads and building an SEO strategy.
Are you looking to sell products and services in a short span of time? Are you working with a tight marketing budget? Have you been burned by SEO or PPC in the past and are scared to try again?
No matter the scenario, you can follow this general thought process to start moving toward the right decision: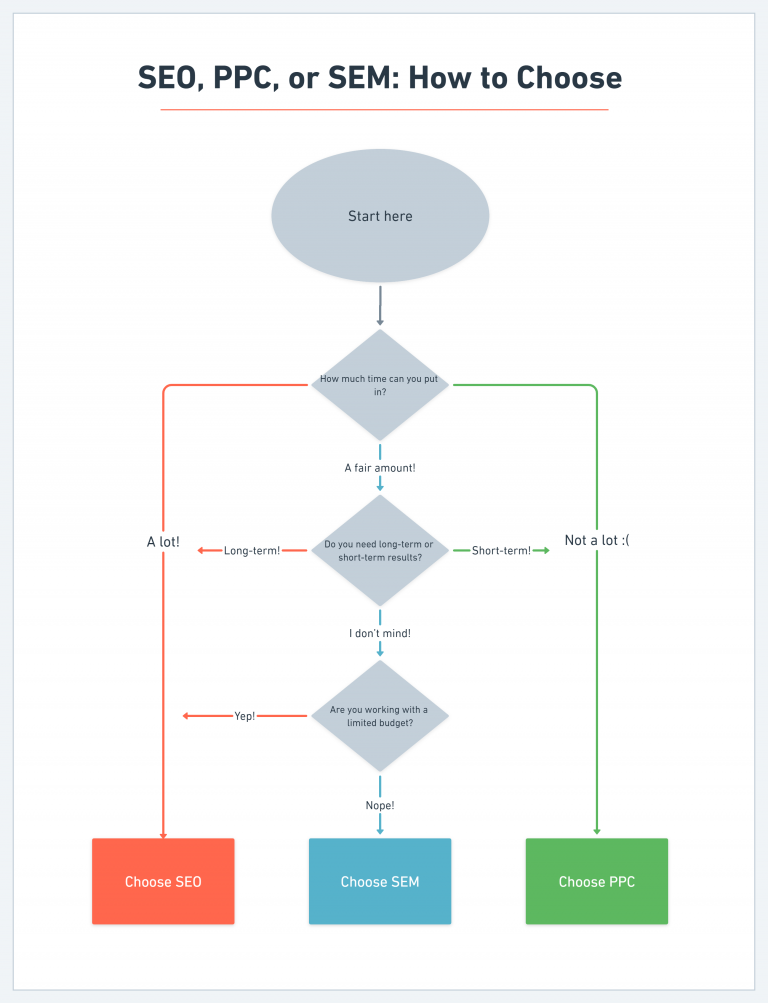 At FourFront, we believe that no website is complete without a sound SEO structure. If you decide to use both PPC and SEO in your marketing efforts, you should always develop your site with an SEO strategy first. This will ensure that it meets all of the content requirements your target audience needs to make key buying decisions.
After building your SEO-proof website, you can then supplement your organic efforts with a paid campaign. Users will have a much better time finding their way around your optimized site compared to a disjointed hodgepodge of web pages.
If you're still wondering about which path to take, reach out to our team of experienced SEO strategists today for a free website assessment! We'll pinpoint the gaps in your current organic and paid performance, so you can make an even more informed decision on where to take your marketing efforts next.