The architecture of your website plays a key role in how Google and other search engines index your site's content. Two common methods used to structure a website for SEO are subdomains and subdirectories.
In this post, we'll take a look at what subdomains and subdirectories are, as well as the pros and cons behind each method so you can make a more informed decision about which one makes sense for your site.
What is a Subdomain?
A subdomain is a division or alias of your domain, used to organize your existing website into a separate site. Typically, subdomains are used if there is content that is distinct from the rest of the site. For example, blog.examplesite.com and shop.examplesite.com are subdomains of www.examplesite.com.

Subdomains are often used when different sections of your site require separate servers and software. If, for example, your site has an international audience, separate subdomains allow for variations in content and language specific to the geographic region, all under the umbrella of the main site.
Another common use of subdomains is for a blog or an e-commerce section of a website. For instance, if a company has a main website for information about their products and services, they might use a subdomain like blog.company.com for their blog posts. This allows them to keep their blog content separate from their product information, making it easier for visitors to navigate and find the content they're interested in.
Subdomains offer several potential advantages for SEO and site organization:


Distinct Presence in SERPs: Search engines treat subdomains as separate websites, distinct from the main domain. This can allow your subdomains to appear alongside your main domain in search engine results pages (SERPs), potentially enhancing your visibility and authority.


Targeting Specific Audiences: Subdomains can be used to target specific market segments, reader groups, or countries. This can help you tailor your content and SEO strategies to these specific audiences.


Topical Authority: Google often gives ranking preference to sites with strong topical authority within a targeted niche. A subdomain focused on a specific topic can help you build this kind of authority.


Keyword Usage: Subdomains allow you to include a keyword directly in your domain name, which can help with SEO and make the purpose of the subdomain clear to users. For example, the URL maps.google.com clearly indicates that this subdomain is for Google Maps.


Rapid Indexing: If a subdomain is created for an existing site that already ranks well, the subdomain can be indexed quickly by search engines and benefit from the main domain's good standing.
Disadvantages of Subdomains
Despite these benefits, there are also some potential disadvantages to using subdomains:


Separate SEO Efforts: Because search engines treat subdomains as separate websites, the SEO efforts for your main site won't automatically benefit your subdomains. This means you'll need to develop and implement separate SEO strategies for each subdomain.


Link Building Challenges: Any backlinks you've earned for your main site won't count towards your subdomains. When you create a new subdomain, you'll need to start building high-quality backlinks for that subdomain from scratch.
What is a Subdirectory (or Subfolder)?
A subdirectory is the part of the url that houses a specific subset of content. A website is like a filing cabinet, the folders within the cabinet would be the subdirectories of your site. Individual directories are located to the right of the domain, like www.examplesite.com/blog or www.examplesite.com/shop.

When creating your site, subdirectories are the most straightforward way to organize related pieces of content on your site. Assets such as images or downloads would be in their own subdirectories. Or if you have an About section, there could be a folder for About, and then the pages for each person on your team would be in the about folder: www.examplesite.com/about/johndoe.html
Benefits of Subdirectories
Subdirectories offer several potential benefits for SEO and site organization:


Unified SEO Efforts: With subdirectories, you're focusing on optimizing a single website rather than dividing your efforts across multiple subdomains. This can make your SEO strategy more straightforward and efficient.


Frequent Crawling: Search engines may crawl your site more often if you're regularly adding new content in subdirectories. This can help your new content get indexed and start ranking more quickly.


User Navigation: Subdirectories can make it easier for users to navigate your site. They can move between different sections of your site without having to switch between different subdomains.


Content Integration: If you're publishing content like blog posts about new features or products, it's easy for users to move between this content and your product or service pages.


Consolidated Analytics: If you're using a platform like Google Analytics, using subdirectories means all your data is consolidated for the entire site. This can make your analytics easier to manage and interpret.



Disadvantages of Using Subdirectories
Despite these benefits, there are also some potential disadvantages to using subdirectories:


URL Management: If you're using a subdirectory structure, you'll need to manage a larger number of URLs. This can make your site's structure more complex and potentially more difficult to manage.


Diluted Authority: Since the authority of your main site is shared across all your pages, adding more pages can dilute this authority. If the content in your subdirectories isn't as high-quality or relevant as the content in your main site, this could negatively impact your site's overall authority.


Content Segregation: In some cases, it may make sense to segregate certain types of content by using a subdomain rather than a subdirectory. For example, many brands create a separate subdomain for their support content to keep it separate from their main site.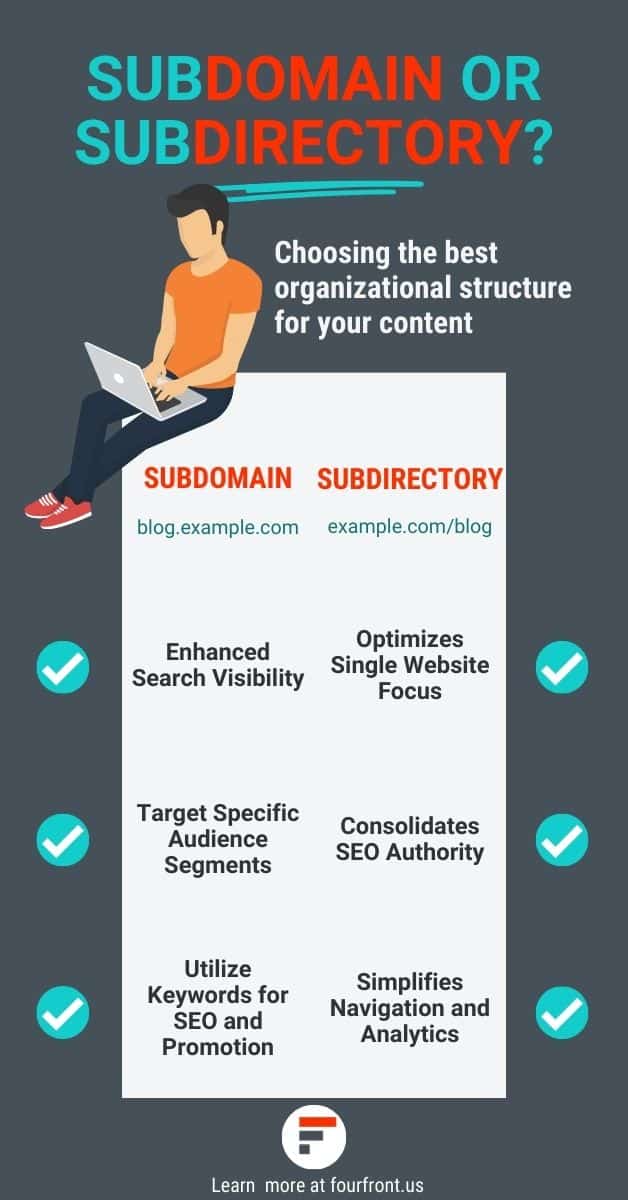 Should You Use Subdomains or Subdirectories?
This is a somewhat debated issue; however, subdirectories are generally the preferred method. Every website is different and the question of using a subdirectory versus a subdomain should be made on a case-by-case basis.
In general, we can recommend using either a subdirectory or subdomain depending on the scope of the new content as it relates to your existing content. For example:
·        If you plan to continue publishing content that is topically related to what already exists on your site, then it's recommended to use a subdirectory.
·        If you plan on branching out your content and covering topics that are different than what you've covered in the past, then a subdomain is going to be your best bet.
To get some further insights, check out these helpful discussion threads on Moz.com:
·        https://moz.com/community/q/topic/20139/blog-vs-blog
·        https://moz.com/community/q/topic/25922/best-place-for-a-blog-blog-mydomain-com-or-mydomain-com-blog
·        https://moz.com/community/q/topic/67999/subdomain-or-subfolder
An easy way to differentiate the two is that a subdomain is a separate site altogether from your main site while a subdirectory is a label for describing the theme or meaning of a page or group of pages on your site. 
Truthfully, either approach, if technically executed correctly, can be successful. Rather than spending too much time on which approach will give you the most results and conversions, the focus should stay on creating and maintaining a structure that makes sense for your content.
Be sure to also ask yourself these helpful questions when considering setting up a subdomain or subdirectory for your site:
·        Is your brand locked into a singular topical vertical for the foreseeable future?
·        Do you or your team have the resources to manage a separate subdomain(s)?
·        Is your brand planning on branching out into international markets?
International SEO: Subdomains, Subdirectories, and ccTLDs
International websites have three choices for structurally organizing content: subdomains, subdirectories, and country-code Top-Level Domain (or ccTLD).

ccTLDs are specific to countries, not languages, and are always two letters. By comparison, generic Top-Level Domains or gTLDs are three letters, such as .com or .org. The ccTLD for the United States is .us, but is not often used.
By using a ccTLD, you are telling search engines that the intended audience for your site is intended to be from a specific country. Google has stated that they use ccTLDs to determine target audiences. ccTLDs are an ideal option for a business that:


Are well established global brand continuously creating content
Have physical locations across multiple locations
Have the resources (budget) to create and maintain a unique site for each specific country
Hosts a wide variety of products or services depending on geographic location
Are aiming to host international versions of their sites on servers potentially not located in targeted countries.


Trust is a huge factor for users on sites using their country's ccTLD, which leads to a better user experience overall. There are some considerations:


Resources to build and maintain multiple versions of the site
Certain ccTLDs may have restrictions
Each site will require an individualized SEO strategy. Separate keyword research, link building, and content strategies will need to be developed for each separate site.


Using subdomains could be an option for companies that have yet to build strong international awareness and don't have the capacity to create content filling multiple ccTLD sites. If this route is to be explored, use Search Console to geotarget each subdomain. This tactic can be used for ccTLDs, but search engines already recognize country codes as indicators to target specific regions. Subdomains are not free from effort and will require the resources to establish and maintain each separate subdomain.


You can probably determine how subdirectories factor in as an option. Using one gTLD, content can be stored in separate folders for each country or language. Since all folders are on the TLD, any link authority you've previously gained can be used in your favor. Using Search Console, you can geo-target each folder. Subdirectories are ideal if you don't have the resources for ccTLDs or subdomains for every country and language you're targeting. Subdirectories are not as strong of a signal to search engines as ccTLDs. If your efforts to geotarget sites in the same language, you could accidentally rank the wrong version.
Website Architecture and Your Search Engine Optimization Goals
In the end, the choice between subdomains and subdirectories, or even ccTLDs, depends on your specific needs and SEO goals. Whether you're looking to organize distinct sections of your site or cater to an international audience, understanding these concepts is crucial. Remember, SEO is not a one-time task but a continuous process. Keep monitoring your site's performance and be ready to adapt as needed. Your focus should always be on creating and maintaining a structure that makes sense for your content and serves your audience best.