SEO is especially important for a medical practice as there is a competitive marketplace, opportunities for unique content strategy, and heightened standards in the medical industry. A medical practice can be understood as any healthcare provider of any size, although many SEO considerations apply especially to small private practices that specialize in certain conditions or treatment options.
Quick Navigation
Top Search Factors for a Medical Practice
Tips for Optimizing a Medical Practice for Search
Common Mistakes for Medical Practice SEO
For a medical practice, organic search is a very important source of traffic coming into their website. There may be more intentional traffic through sources such as paid search or email marketing, but organic search represents the largest market of potential users. If executed correctly, a well-optimized site can bring in the most users through organic search, and drive those users to convert.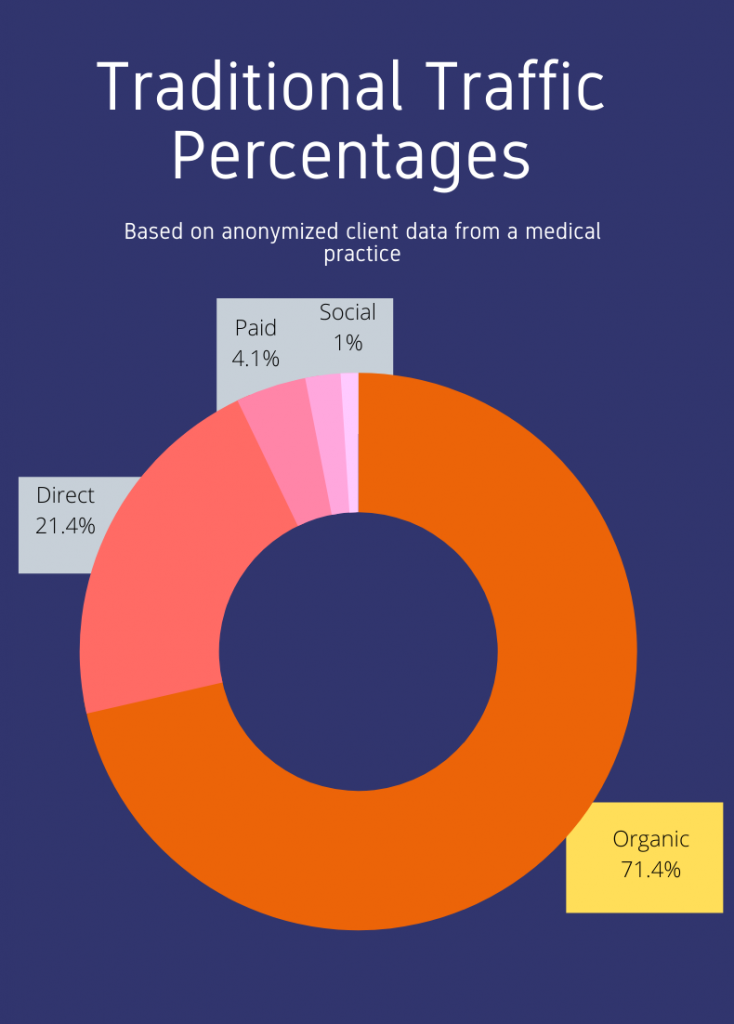 It is important to see past the initial landing that may come from an organic user and see the full picture of that user journey. They may arrive on the site in the discovery phase of their journey, searching for something that may not be a major conversion opportunity. With that said, a discovery landing with strong visibility can become the beginning of a journey that sees target users eventually becoming converting patients. A properly optimized site will also increase reputation for the site and improve the less tangible elements such as user experience, that will then impact the user's opinion of the company as a whole.
Top Search Factors
There are many search factors that apply to a medical practice; there is a long list of factors that impact organic visibility for all pages. It is helpful to refine the list of search factors to the most valuable elements in relation to medical practices and the healthcare industry more generally. By isolating and examining these factors, a website can become more focused and intentional with its content and overall experience.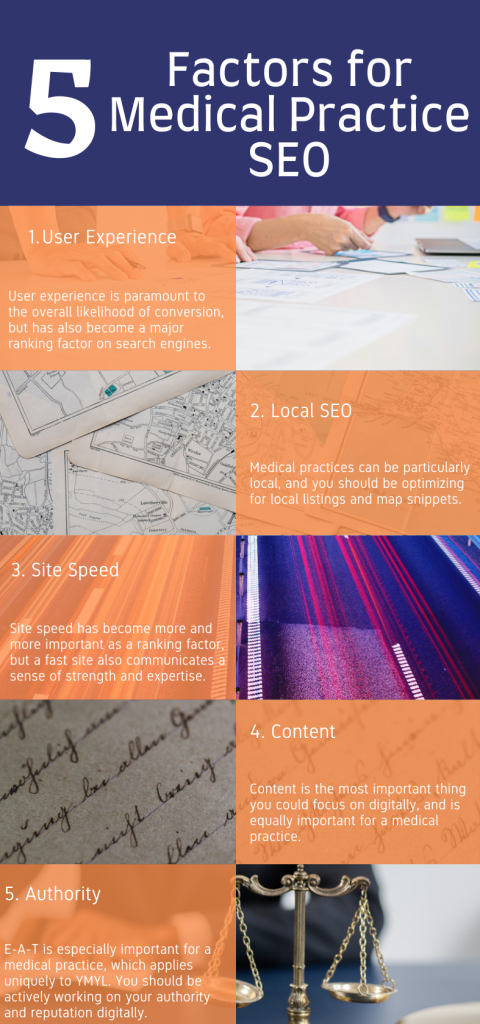 Some top search factors for medical practices include:
In conjunction with the update related to E-A-T, there another acronym called 'YMYL' which stands for 'Your Money or Your Life.' This essentially places additional focus on the type of content that applies specifically to a user's money or their health. Medical practices are a perfect example of YMYL, a site where users are asked to spend a potentially large amount of money for a service that will very literally impact their health. There are many methods for promoting your own authority and leveraging E-A-T assets, utilizing as much value possible from your brand on your site.
Tips for Optimizing a Medical Practice for Search
Due to the unique nature of medical practices, there are tips that apply specifically to the industry and site type. These SEO tips can be applied at a small scale on specific targeted pages or applied at a large scale to an entire site.
Website Design
Website design is something that should be thought through from an SEO perspective, while many developers wait until the site is nearly published before the SEO agency looks through the pages for final approval. If you truly want the most out of the time and money spent on updating a website, SEO should be considered from the very beginning and followed through upon the new site publish.
There are many UX factors that should be considered when it comes to website design, such as mobile-friendliness, site structure and navigation. In addition, the elements of the site that apply to technical SEO should be considered. This can include page speed, a well-designed sitemap, image size and a redirect map to ensure there are as few 404s as possible.
Content Strategy
As was stated earlier, a sound content strategy trumps all other factors when optimizing for Google. Many medical practices think that content should either be condition pages or blog content, but there is a universe of content possibilities that address user queries and add authority and trust to your site in the process. New content can be created to address specific queries, existing content can be optimized for target keywords, and the blog can be transformed from a marketing schedule to a strategy built on data that responds directly to user queries.
Local SEO
Local SEO is highly important for medical practices since many of the patients will be coming from your local area, and often end up in local results searching for specialists in their area. The techniques for optimizing local SEO are very unique, often relating to Google My Business but also involving technical elements that will optimize local snippets.
There is an additional emphasis on NAP (Name, Address, Phone Number) for medical practices, as there are often many local listings on the internet and they should all remain consistent. There are also many additional details related to local information such as:
Business category
Reviews
Hours of operation
Photos
List of services
Primary description
Increase and Leverage Reviews
As is the case for many local sites but also for medical practices, reviews are paramount to establishing trust with prospective patients. Reviews may exist all over the internet, and should be organized and leveraged as much as possible, which will then allow them to be featured more on Google local listings.
If your site does not currently have many reviews, or a certain department or treatment option does not have many reviews, then it may be beneficial to reach out directly to your patients. This can include email marketing, marketing material immediately after treatment, or social media marketing. Many patients may be willing to leave a positive review, but may not realize the value it could give until you ask directly.
Backlinks
Backlinks, or external links, can include any external site that links into your site from any page. This can transmit a large amount of domain authority to your site, especially if the backlink is coming from a reputable site with a large domain authority of its own. Backlinks are a valuable ranking factor, and also helps to drive traffic immediately from the original site. That is why it is especially important to curate your list of potential backlinks and make sure that the audience type from that site is relevant to your target user base as well.
Strategic Keyword Research
There are many SEO tips that apply to the site as a whole, once you get to specific pages and develop a content strategy, then targeted keyword research becomes incredibly important. All content work should begin with the keywords, identifying the search intent of the user and speaking directly to that user intent through your content.
There many tools for gathering keyword data, such as keywordtool.io and SEMRush. You can obtain a long list of keywords along with search volume, which indicates how many monthly searches a given keyword gets roughly in an average month.
The next step to finalizing a concrete strategic set of keywords is to factor your current site productivity in. Data such as clicks, impressions and average rank can be gathered from Google Search Console. With productivity data as well as search volume, you can then refine the list to the user intent that best reflects the intent of your page. With this list of keywords, you know what to write to but you also have the ability to find highly-relevant peers and conduct research on what the market is currently responding to and what niche you can best optimize for.
Video Content (And Other Visual Assets)
Visual elements are always a valuable piece of SEO, and that is very much true for medical practices. Assets such as videos, infographics, and interactive tables enrich the user experience while also acting as a ranking factor on search engines. Google has also become more and more disposed to utilizing page assets in a range of new ways. This can include your image appearing in image results, videos appearing in the SERP on page 1, and infographics appearing in featured snippets at the top of page 1. This can all be done with or without the page itself, which highlights how important assets can be on their own.
Report on Your Progress
SEO becomes truly dynamic and impactful when you begin reporting on your efforts and analyzing the effect. This way, good work compounds on itself and the effects begin to ripple around the site. It is very important to review your progress and ensure that your work is actually making the desired effect on your site. Analytics allows for momentum to begin and more and more opportunities to appear for potential optimization.
There are many tools for reporting, but the most accessible and straightforward is Google Analytics. By setting your site up with Google Analytics and other related Google products, you are immediately improving your site with very little effort required. From there, there are many more opportunities to dive deeper into your data, including Google Tag Manager for creating custom events, and Google Data Studio for visualizing your data in ways that are more strategically valuable.
Multi-Channel Marketing
All of the tips included above are highly important for SEO, but it is important to consider all facets of your online presence when marketing your site. Every marketing effort has the potential to compound on all other efforts to improve each other, and so everything should be utilized as much as possible. This can include your social media presence, video creation on YouTube, and all other means of advertising and digital marketing. For example, a single blog post that was created through an SEO strategy can then be posted on your social media, sent out through an email marketing campaign, and a related video can be posted on YouTube.
Common Mistakes for Medical Practice SEO
Even the professionals often make mistakes when optimizing a site, and mistakes should be expected for people trying to work on their site while also trying to run their business. From the SEO specialists to the business owners, these mistakes can often happen while working on optimizing your site for search engines. Mistakes like these can have effects on your rankings and general organic visibility, by identifying and resolving these issues you can keep these effects from lasting and recover lost visibility.
Duplicate content: Duplicate content can be internal instances of the same content being used on many pages. It can also be external, pulling definitions or lengthy statements from peers. External duplicate content can have harmful consequences in terms of plagiarism being penalized, while internal duplicate content can confuse search engines as to which page to rank.
Page speed: As the site gets updated and redesigned with more assets and large images, one unintended consequence could be slower page speed. There are many solutions to solve slow page speed, but one quick common solution is to identify any uncompressed images and have them compressed to a more manageable size.
Minimal content: While creating content for your site, it is tempting to use an image-centric approach. Web pages may look cleaner or more attractive with mostly images and interactive elements, but without strong content it becomes difficult to rank well for target keywords.
Reputation: Reputation is often something that is not directly considered in terms of search engine optimization, but it is possible to review and manage your online reputation. It is a lost opportunity if you are not analyzing and actively working on your brand reputation.
Local SEO mistakes: The most common mistake in terms of local SEO is an incorrect NAP (Name, Address, Phone Number). There are many places on the internet where your NAP appears, and you may have it correct on your site but you may be missing out on a web of inconsistencies on other sites.
Black hat SEO: If you over-think SEO without following true SEO principles, you could find yourself conducting black hat tactics. "Black hat" is a term used to represent any tactics that are dishonest or disreputable on your site. Examples from the early days include 'keyword farming' where you found ways to hide your target keyword in the site so Google could pick it up, but that method will no longer be successful and will end up giving you penalties. There are less noticeable black hat techniques, though, such as over-using your target keyword in the content in a way that sounds unnatural. At the end of the day, the content needs to be strong and honest, and all of these kinds of tactics will be penalized.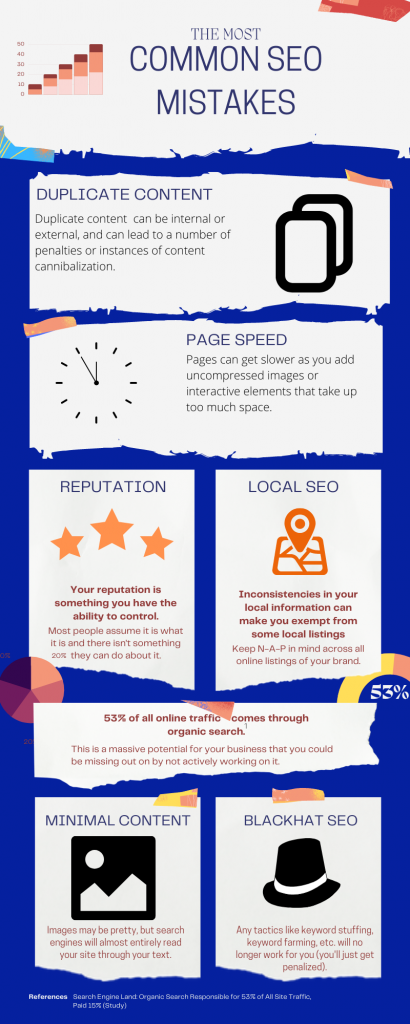 Frequently Asked Questions
What is medical practice SEO?
SEO is the culmination of efforts on your website to improve ranking on search engines. For a medical practice specifically, it is the work to get your site to rank for keywords that your prospective patients would be searching for. These can include 'COPD care in Philadelphia' or 'OBGYN services near me.'
Why is SEO important for a medical practice?
SEO is crucially important for medical practices because the majority of patient traffic coming to medical practice websites are coming through search engines. Not optimizing your site for search engines would be a major lost opportunity for your business.
How long does SEO take to work?
SEO efforts are usually first measured 1-2 months after content has been published. This is a rough average, and depending on the type of work, it could be measured in the first week. Generally, new content takes several months to be indexed, reviewed and begin ranking, meanwhile updating an existing page could lead to more immediate results.
Which KPIs should I be tracking?
KPIs should be defined by your internal team, but should revolve on whatever action taken by users will lead to an increase in revenue for your business. Most medical practices consider conversions like 'request an appointment' or phone calls target KPIs. If you have a custom contact form on your site, that could be another example of an effective KPI to track.
What type of content should I be creating?
Every medical practice has a slightly different content type that best suits them, depending on size and specialty. A small medical center should focus on niche long-tail keywords that may have smaller search volume but are more attainable for their business to rank for. Meanwhile, a large hospital with a strong reputation has the potential to rank for keywords that have much more search volume and are thus more competitive.