The simple answer is yes, SEO is a good career. SEO professionals can make good money, achieve a comfortable work/life balance, find a position in the industry that suits their natural skill set, and challenge themselves creatively. An increase in demand for SEO means that there are more jobs on the market daily, and those who enjoy the work will be able to find opportunities that help them feel both fulfilled and secure in their occupation.
We may be biased here at FourFront, but take it from Jared Groff, our Search Engine Optimization Manager:
Below we take bias out of the equation and answer these common questions about SEO salary, job security, work/life balance, safety, and more.
On this page, you can find this information about SEO careers:
How Much Money Can You Make with a Career in SEO?
According to research by Search Engine Journal, 60% of SEO professionals earn the same or more than the U.S. median. That said, what you'll actually make depends on a number of factors, including location and years practicing. For reference, Salary.com says that Search Engine Optimization Managers in San Francisco typically make between $90,496 and $124,785, while Search Engine Optimization Specialists in Washington D.C. will typically make between $48,149 to $59,473.
Keep in mind that these represent middle-of-the-road positions. Associates generally make less than specialists, and Directors generally make more than Managers. If you own your own SEO company, then the sky is the limit.
Do SEOs Have Good Job Security?
If growth in demand for SEO professionals is an indicator of job security (spoiler alert: it is), then you can consider this field Fort Knox. SEO is still a relatively new and evolving industry, and since COVID-19 accelerated already astronomically increasing trends towards online shopping and ecommerce, more and more businesses are looking to beef up their online profile. Who will they turn to? SEO professionals.
As a bit of evidence, just check out the relative growth of searches for "seo jobs" overtime courtesy of Google Trends:

What is Work/Life Balance Like in an SEO Career?
This is another place where SEO careers shine. As a new and evolving industry, most employers pay close attention to industry trends and take their cues from leaders in the work/life balance movement like Google. Many companies (including Fourfront) offer great benefits like flexible hours, work from home options, and other perks. At FourFront, we're always brainstorming ways to improve the working experience for everyone.
There's no Bureau of Labor Statistics category for SEO yet… but there is one for Computer and Mathematical Occupations and that's one of the safest categories to be in. If you have a taste for the macabre, a fun fact is that individuals in this category are 79x less likely to die on the job than the national average.
Is SEO a Good Career for Me?
Whether SEO is a good career for you is a more subjective question, and depends on a number of things:
Are you adaptable? This is important. SEO is an ever-changing field, so you'll need to develop new techniques to solve problems on a regular basis. Algorithms will change with or without notice, the platforms and tools you use will rise and fall, and your competitors will always be trying new things that keep you on your toes. Complacency is death in this field.
Are you competitive? There's a lot of emphasis on watching Google in the SEO world, but the other part of the equation is watching your competitors. What are they doing on their websites that's earning them high rankings? Brainstorming new and creative ways to beat out the competition is a big part of the game.
Do you like working with data? Data is the backbone of any solid SEO strategy. You'll analyze data in Google Analytics, Search Console and many other platforms to monitor the success of your strategies. If you have a knack for finding new ways to crunch numbers, you may find yourself loving life in a Data Analyst position.
Do you like working with a team? Two heads are better than one but a whole team is often better than two. At FourFront, we believe that staying on top of changes in the field and finding solutions to new SEO problems requires the different outlooks and skillsets that a full team brings to the table. Collaboration is key.
Do you like helping people? At the end of the day, SEO is about helping people find information and services. The goal of algorithms used by search engines like Google is to connect users with the websites that are best suited to meeting their needs. As an SEO, you help position your clients' website to be the best at doing so. Skills as diverse as paid ads management, UX design, and content strategy can come in to play in any given project.
Can you stand working at a desk? While certain positions will provide you with plenty of face-to-face time with your clients and many companies offer initiatives to keep you healthy, much of SEO requires being firmly planted in front of your computer. That's not for everybody, so be sure to consider it.
One of the great things about a career in SEO is that an entry level position does not require any prior industry experience or prerequisite knowledge. If you're looking to get a leg up, there are a number of free courses and industry publications to help jump-start your knowledge. If you prefer a more structured approach, some colleges offer certificate programs, bachelor's, or even master's degrees in digital marketing.
At FourFront, entry-level employees often have little to no experience. Many of our team members have joined us as interns in college, and continued to grow with the company. Others have been career-changers who are interested in pursuing something new. When speaking with potential new entry-level hires, we value drive, analytical ability, creative problem solving, a love of learning and generally being pleasant to work with. The rest you can learn on the job.
That said, showing some initiative and interest in an interview always helps you stand out. With that in mind, here are some free resources for those looking to study SEO basics in their free time:
What Career Paths are there Within SEO?
There are a number of positions available for those looking for their first job in SEO. Job searchers are often hired as SEO Associates, Project Coordinators, Content Writers and more. That's a good way to get your feet wet, but once you know the basics there many directions you can go.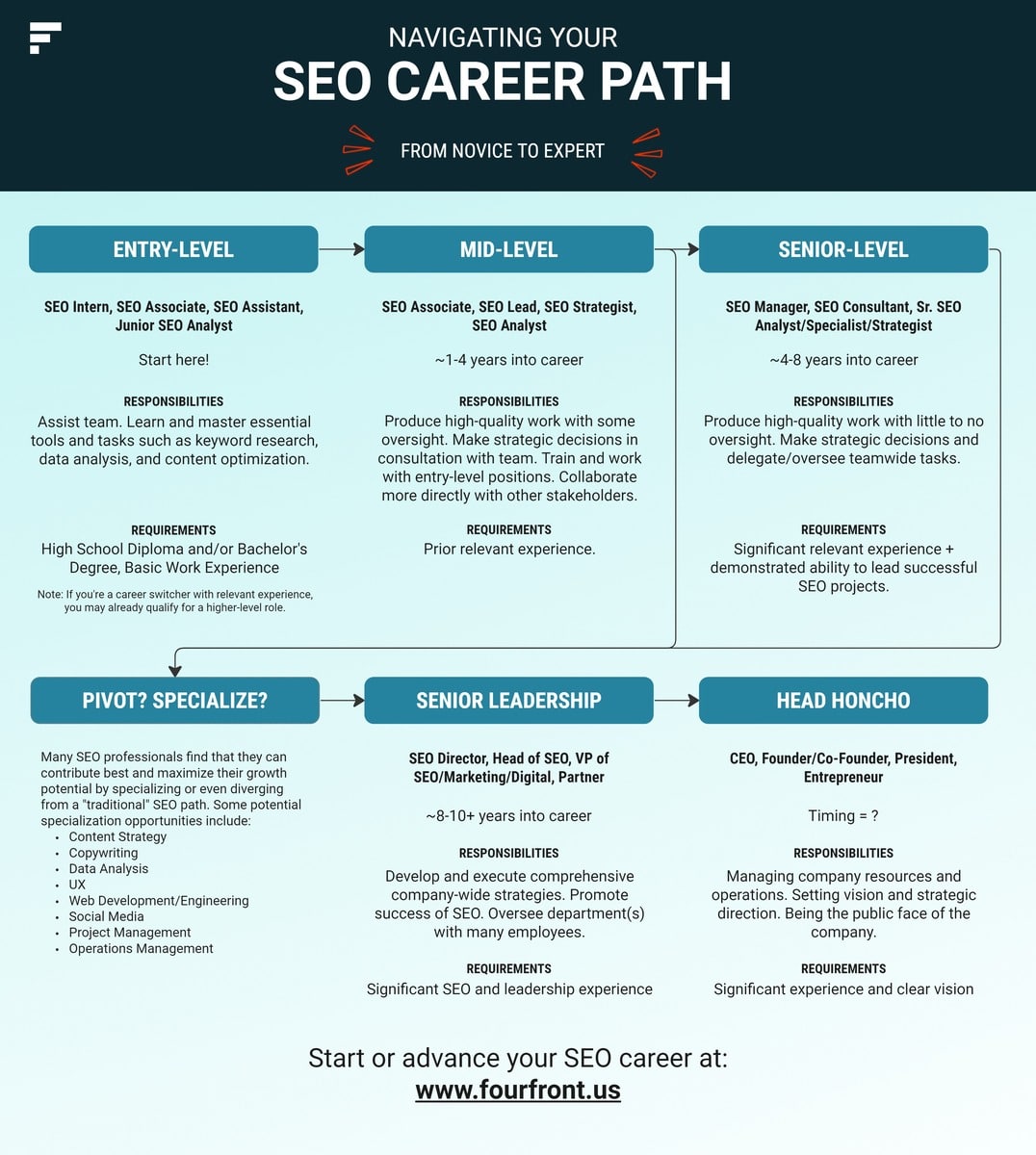 If you're interested in learning more about SEO and joining a great team, take a look at the open roles our Careers page and let us know where you think we can grow together. If you don't see a position that catches your eye, feel free to reach out anyway—we love meeting new people and you never know what future opportunities might unfold.